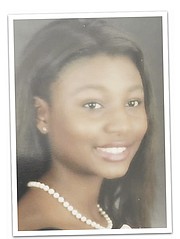 SIXTEEN-year-old Bahamian student Tyja Braynen has been given the opportunity of a lifetime – to witness the swearing-in of the next president and vice president of the United States.
Tyja is being given this opportunity because she was selected to attend the 2017 Presidential Inauguration Leadership Summit in Washington, DC, next January.
Tyja, the daughter of Tyrone Braynen of the Ministry of Tourism in Nassau, and Lynnith Braynen, Consul at the Bahamas Consulate General, Miami, was selected for this exclusive and historic opportunity as an alumna of the Junior National Young Leaders Conference.
The former student of Xavier's Lower School in Nassau is now a 12th grade student at Western High School in Davie, Florida.
The Presidential Inauguration Leadership Summit is being held in celebration of the Inauguration of the next president and vice president of the US. For five days, Tyja will take part in activities and events inspired by the presidential inauguration. She and other summit scholars will participate in workshops, seminar discussions and presentations designed to broaden their perspective on issues facing their generation.
Among the highlights of the summit will be inspirational presentations by extraordinary speakers like Malala Yousafzai, the youngest ever Nobel Laureate, and her father, education advocate and Ziauddin Yousafzai.
Then on Inauguration Day, the scholars will be on the National Mall to witness the president and vice president take their oaths as they are sworn into office.
This is not the first honour for young Tyja. At age 11, while a student at Saints Peter & Paul School in Miami, she was selected to represent her school and the state of Florida at the Junior National Young Leaders Conference in Washington, DC. Tyja was nominated by one of her teachers for being an outstanding individual, displaying academic excellence and having strong leadership potential.
Tyja is a National Honour Society member, having been selected in grades 9, 10, 11 and 12. She is also a National Forensic League member. The league is the largest interscholastic speech and debate organisation in the US.
Among her many awards, Tyja was a delegate to the National Keystone Conference in Orlando in grade 11; nominee for the Career Research Exploration and Successful Transitions Award in grades 9 and 10; Most Outstanding Student (French II) Award in grade 10; Most Improved Student (CREST) Award in grade 10.
In this her final semester in high school, Tyja is enrolled in the Advanced Placement and Honour Courses, including English 4 Honours, Anthropology Honours, Advanced Topics in Math, Advanced Environmental Science, Government and Economics Honours and International Relations Honours.
She has been awarded the Dean's Scholarship at Stetson University in DeLand, Florida, for superior academic achievement, leadership and accomplishment, participation in school activities and community service.
However, the high school senior is presently weighing her options on which university to attend after she graduates this June, having been accepted to five other universities so far - and is receiving other scholarships.
Tyja plans on pursuing a double major in International Studies and International Law, with a minor in Anthropology.
In her spare time she enjoys reading, tutoring other students, volunteering her services in the community, debating and visiting museums. She also has a deep passion for social and cultural anthropology.