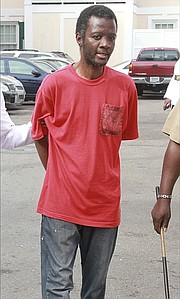 By LAMECH JOHNSON
Tribune Staff Reporter
ljohnson@tribunemedia.net
A MAN was sentenced to 16 years in prison yesterday for the knifepoint abduction, robbery and rape of a woman that occurred in the presence of the victim's two-year-old child.
Randy Carlos Williams, 31, appeared before Justice Gregory Hilton facing between five years and life imprisonment concerning the late night attack that occurred in July 2011 in Andros.
Justice Hilton felt the sentence, which considered the four years and seven months Williams had already spent in custody, was appropriate in all of the circumstances.
Williams was sentenced to ten years for burglary, 14 years for kidnapping and 16 years for the remaining four counts of armed robbery and rape. The sentences were ordered to run concurrently.
In noting that Williams' lawyer Jiaram Mangra had asked the court to impose 12 years and Crown prosecutor Raquel Whymms suggested no less than 20, the judge said: "A sentence is required to express society's abhorrence to his kind of crime."
"In respect to the convict, the mitigating factors are that there was an early plea of guilty, sparing the victim of the need to testify, his relative youth, clean criminal history and gainful employment at the time of the incident," Justice Hilton noted.
However, the court said that six crimes arose out of the incident in question.
"Concerning the aggravating factors, the convict threatened the victim and the child with death if she revealed what he had done, she was kidnapped at knife point, robbed and raped twice and there was evidence that this was a planned attacked in that her phone wire was cut."
Justice Hilton said although the penalty for rape was life imprisonment, he did not believe that Williams should be in prison for the rest of his life when considering all of the factors.
Williams had forgone a trial last July when he pleaded guilty to burglary, kidnapping and two counts each of rape and armed robbery concerning the July 19, 2011 attack on a woman in Andros. There was DNA evidence linking Williams to the crimes.
The victim was at home at midnight watching television and on the telephone when the call was cut. She turned around and there stood the accused armed with a knife. Williams took the woman and her two-year-old child and forced them into a car where he raped her and then took her to an ATM machine to withdraw $900.
He took her to another ATM machine and had her withdraw $400 and shortly afterwards, and raped her again in the presence of the child.