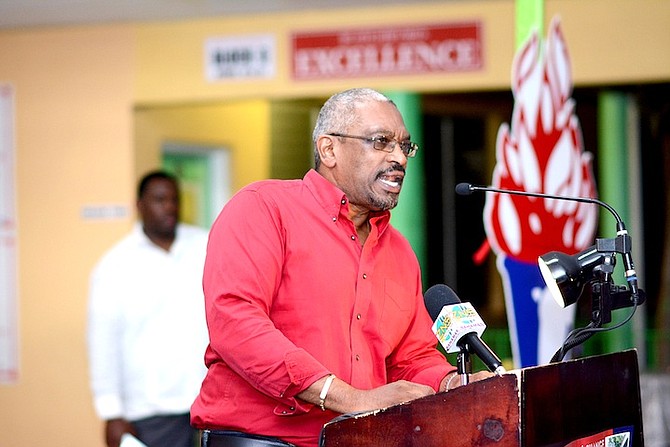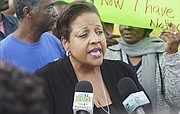 By KHRISNA VIRGIL
Tribune Staff Reporter
kvirgil@tribunemedia.net
FREE National Movement Leader Dr Hubert Minnis yesterday said Long Island MP Loretta Butler-Turner "definitely" has his support as the party's 2017 general election candidate amid speculation that Fort Charlotte MP Dr Andre Rollins was on that island this weekend reportedly to court party supporters.
Dr Minnis told The Tribune he was certain that when the ratification process takes place, Mrs Butler-Turner would have the full support of the party.
However, he did not say when this would be done.
Meanwhile, when asked to comment on the purpose of his visit to Long Island on Friday, Dr Rollins yesterday said this is a free country and he did not believe any Bahamian should have to defend their right to visit any island.
"As far as I am concerned she is the incumbent and she has our support and the party's support," Dr Minnis said, responding to questions from The Tribune.
"Loretta is the MP for Long Island. She has my complete support as the candidate returning. Our focus is to defeat the Progressive Liberal Party. She and all of our other candidates will help us to get them out of office. The people of Long Island love Loretta.
"When the time comes for ratification she will have the remainder of the party's support. But she definitely has my support."
On Friday, photos emerged on social media site Facebook depicting Dr Rollins in Long Island purportedly at the home of a well-known FNM supporter.
While some Facebook users noted that the MP descended from Long Island and had family ties there, others speculated that he was eyeing the seat and was attempting to get major support to secure the general backing of the party to ensure he could be ratified as their candidate for the 2017 general election.
On Friday, party Chairman Michael Pintard was unaware of the purpose of Dr Rollins' trip. He said he was advised that Dr Rollins was not on official party business on the island, adding his family is descended from Long Island. Mr Pintard also said the party's leader and executive team were still in consultation with Mrs Butler-Turner over when a meeting in her constituency is going to take place.
The Fort Charlotte MP's visit to the constituency followed the leak of an email last Monday that was sent from Mrs Butler-Turner to Mr Pintard. In the email, she accused him of organising an executive meeting in Long Island without her knowledge.
She said the planned meeting was "most egregious and disrespectful" and raised "suspicions of ill-intent and corrupt practices."
She pointed out that this was the third time she found it necessary to remind Mr Pintard of protocol, which dictates that where there is a duly elected member of Parliament, the member is to be consulted regarding activities and meetings in their constituency.
"I trust that this will indeed be the last time that I must remind you of your duty to be seen as upholding the guiding principles upon which our FNM was founded," she scolded him.
Last week Mr Pintard said there was no truth in the rumour that the party was seeking to hold a meeting in Long Island to support, promote or ratify Dr Rollins. He said Mrs Butler-Turner, who has worked tirelessly on behalf of her constituents, has the support of the party.
Mr Pintard added that any suggestion to the contrary was pure mischief. He said it is the party's expectation and hope that the good people of Long Island would continue their "love affair" with Mrs Butler-Turner, who he said is up to the task of delivering better for Long Islanders.
He added that the meeting in question in Long Island is the latest in a series of similar events in other constituencies based on FNM Leader Dr Hubert Minnis' previously announced plans to organise such events.
Members of the FNM's Long Island Constituency Association have expressed support for Mrs Butler-Turner, an executive of the body telling The Tribune last week "we don't need him here" as she spoke of whether constituents would welcome Dr Rollins as their new representative.
Sandra Knowles, chairperson of the association, said while speculation has been running wild on the island that Dr Rollins was being considered as the party's candidate for the area in the next election, "Loretta is the man for Long Island."
Council representative Charles Carroll added that the political climate in Long Island in his opinion was one of support from both sides of political divide for the MP.