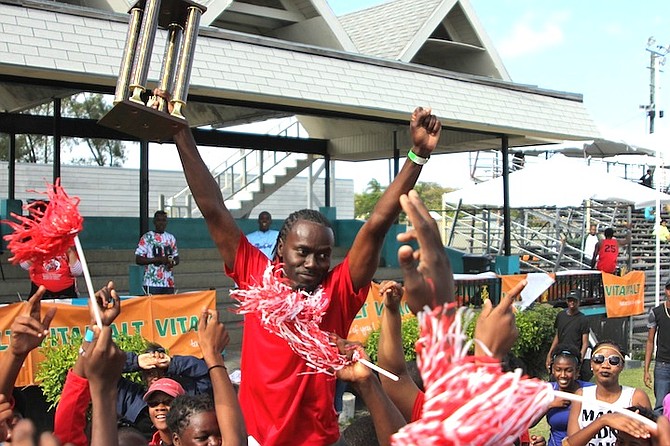 By BRENT STUBBS
Senior Sports Reporter
bstubbs@tribunemedia.net
THE Government Secondary Schools Sports Association's (GSSSA) Senior Track and Field Championships concluded on Friday with the CR Walker Knights celebrating as the champions, regaining the title that they lost to the CV Bethel Stingrays for the past two years.
As the two-day meet came to a close, the Knights shined, along with some of the other schools, as some of their athletes either got a chance to dominate their individual events or rebounded after losing out in events that they felt they should have won the day before.
Nixon Joseph, of CC Sweeting Cobras, was one of those latter athletes. He was beaten in the under-18 boys 3,000 metres by Lhevinne Joseph earlier in the day, but came back with vengeance to take the 800m in a time of 2 minutes 11.29 seconds.
"Last year, I ran a better time in the 800, but I don't know what happened today," said Joseph, a 16-year-old 11th-grader who successfully defended his title in two-lap race. "I just have to work harder so that I can go to the Nationals and run much faster."
This was the first time that Tercel Rolle, from CR Walker, ran the 800m and she managed to hold off her team-mate, Breanna Pratt, to win the under-20 girls race in 2:43.36. Pratt, who was third in the 400 on Thursday, did 2:44.65 to make it a 1-2 sweep.
"It was a good race, but I had to push myself," said Rolle, a 16-year-old 12th grader. "I had to fight. I just wanted to do what I had to do to help us get our championship trophy back."
Michael Gomez pulled off another 800m victory for CR Walker in the under-20 boys division when he clocked 2:08.68 in out-sprinting CI Gibson's Rotavieo Adderley, who was second in 2:09.94 and Doris Johnson's Shamar Ferguson, who was third in 2:10.84.
"The back stretch was very hard to run, but I gave it all I had to bring it home," Gomez said. "It was much better than I thought."
CR Walker's Mickela Rolle took the under-18 girls' 400m hurdles in 1:15.38, holding off the CV Bethel duo Amanda Clarke, second in 1:15.55, and Philippa Farrington, who was third in 1:20.61. It was a double victory for Rolle, who also captured the 400m on Thursday.
The under-20 girls 400m hurdles also went to CR Walker as Althea Rolle crossed the finish line first in 1:20.74. The win was redemption for Rolle, who did not finish the 100m hurdles on Thursday after she collided with one of the hurdles. CV Bethel's T'Quavia Rolle was second in 1:24.67 and CC Sweeting's Aa'Liyah Cooper got third in 1:24.76.
"On the back, there was a lot of breeze, but I felt I did good," said Rolle, a 16-year-old 11th grader. "Even though I had a bit of a challenge running the back stretch, I fought through the wind and it was a good wind."
Anatol Rodgers' Tyrik Thurston also got his second victory as he added the under-18 boys' 400m hurdles to his 110m hurdles triumph from Thursday.
"I felt I got out hard enough as I attacked from the first hurdle, but I felt I could have been more aggressive on the back stretch," said Thurston, a 17-year-old.
"It's a honour to be able to win the two races. I feel great, I'm very grateful and I just want to thank God."
The winner of the under-20 boys' 400m hurdles was Alfred Strachan, of CR Walker. He used his tall range to run 59.20 seconds, well ahead of his nearest rival, Brandon Hanna from CI Gibson, who did 1:00.12 for second. Anatol Rodgers' Azaro Roker was third in 1:03.60.
"Everything I planned, I did. I felt I could have ran faster, but the breeze was crazy on the back stretch," said Strachan, a 27-year-old 11th grader. "I was satisfied. I made up for it on the last half of the race."
There were two sprint double champions.
CR Walker's Kaylea Albury, probably the meet's most outstanding athlete, ran 25.78 seconds to win the under-20 girls' 200m to add to her 100m and 100m hurdles titles she claimed on Thursday. And CV Bethel's Cameron Oliver clocked 21.81 in the under-20 boys' 200m to go along with his victory in the 100m on Thursday.
CR Walker's Chenice Forbes was the winner of the under-18 girls' 200m in 26.09, while the under-18 boys' crown went to CV Bethel's Bre'shaon Pennerman in 22.63.
On the field, there were only two double winners.
CI Gibson's Latavia Braynen took the under-18 girls triple jump with a leap of 9.86m (32ft, 4 1/4ins) to add to her triumph in the discus on Thursday with a heave of 25.72m (84ft 4in).
And CR Walker's Johnie Jean Jaques did 37.30m (122ft 4in) in the under-20 boys discus to add to his winning feat of 13.84m (45ft 4in) on Thursday in the shot put.
Ednal Rolle, in his first year as the new coach for CR Walker, said the Knights just simply put together a solid package of track and field competitors and that resulted in them regaining the title from CV Bethel. Now it's on to the Bahamas Association of Athletic Associations' National High School Championships and Rolle said they will be looking to put on a show there as well.
The nationals is expected to be staged in Grand Bahama in April.