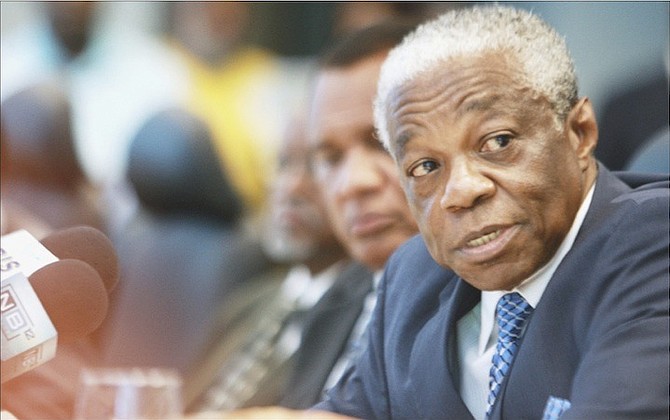 By SANCHESKA BROWN
Tribune Staff Reporter
sbrown@tribunemedia.net
NATIONAL Security Minister Dr Bernard Nottage yesterday introduced legislation in the House of Assembly that would make violating bail an offence punishable with up to a $50,000 fine and/or up to five years in prison.
Addressing parliamentarians, Dr Nottage said currently if a person is found to be in violation of his bail conditions, he would only be charged with a minor offence. Once the amendment to the Bail Act is passed, however, a person who is found guilty of violating the terms of his bail will be charged with the crime he committed while on bail as well as face a "very serious penalty".
Dr Nottage said currently there are 358 persons on bail wearing ankle-monitoring bracelets. Some of these persons, according to the minister, have been charged with multiple murders and multiple armed robberies. He said the bracelets are extremely useful if operated properly, however many persons out on bail do not follow the terms of their release and in spite of the conditions, reoffending is still "high."
"In the average case, when an offender is given bail the magistrate or the judge may impose some conditions. The conditions are you must report to the police station every Friday afternoon before 6 or you must report three times a week, or there may be a curfew and you must not be out on the street between 9am and 6am," Dr Nottage said yesterday afternoon.
"Those are some conditions, you are to go to work, you are free to move about, but once 9pm comes you are to stay inside at a specific location or there are certain areas you must not go. Persons still seem to be committing crimes in spite of these conditions. So this law is an amendment to the Bail Act and is creating a violation of bail conditions to an offence. An offence, which on summary conviction exposes you to being found guilty to a fine not exceeding $50,000. "Now that is not a mandatory $50,000, the judges have indicated they are not legally bound by mandatory penalties, but the amendment says you can be fined up to $50,000 and five years in prison for the violate of bail conditions."
Dr Nottage said one of the conditions violated frequently is reporting to the police station. He said it is not very well controlled "by persons who work in police stations or officers who are in charge of police stations" and sometimes the matter is a communication problem with the judge.
Dr Nottage said an additional problem when it comes to bail is persons who post multiple bonds for several people and use "the same property to sign for a number of persons." He said he would like this practice "stopped very soon."
He also said persons who are granted bail are often victims of serious crimes themselves. According to Dr Nottage, in 2014, 30 persons were murdered while wearing ankle-monitoring bracelets.
Despite being opposed to bail for serious crimes, Dr Nottage advocated for bail for minor offences such as possession of a small amount of marijuana or vagrancy. He said the prison, which currently holds over 1,600, is overcrowded and the government needs to find a way to "stop jailing our young men."
"Under the (proposed) parole probation system it would create conditions under which persons do not have to be incarcerated for certain crimes. One of the principal ones is a drug related crime, possession of small amounts of marijuana as an example and vagrancy," Dr Nottage said.
"We are seeking to create alternative sentencing for persons. I sometimes feel like I am being schizophrenic because on the one hand I complain about people getting bail and on the other hand I want people to get bail except we are doing it for different categories of persons. We cannot go on jailing all of our young men without seeking to find ways to reform them and transform them."
Dr Nottage said he hopes the changes discourage persons from reoffending and decreases the public's fear of crime.