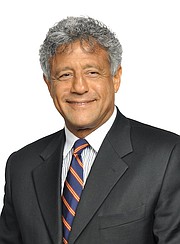 By SANCHESKA BROWN
Tribune Staff Reporter
sbrown@tribunemedia.net
GRAND Bahama Human Rights Association President Fred Smith, QC, said it is "completely unconstitutional" to jail or fine someone for failing to abide by their bail conditions and the GBRA is prepared to represent anyone who the courts attempt to "illegally" penalise.
In an interview with The Tribune, Mr Smith said the penalty for a bail violation is to have your bail revoked, not to receive a hefty fine or be jailed.
On Wednesday, National Security Minister Dr Bernard Nottage introduced legislation in the House of Assembly that would make violating bail an offence punishable with up to a $50,000 fine and/or up to five years in prison.
Addressing parliamentarians, Dr Nottage said currently if a person is found to be in violation of his bail conditions, they would only be charged with a minor offence. Once the amendment to the Bail Act is passed, however, a person who is found guilty of violating the terms of their bail will be charged with the crime they committed while on bail as well as face a "very serious penalty".
"This is completely unconstitutional. When someone violates their bail you cancel it and place that person into custody until trial. That is the essence of bail," Mr Smith said.
"It is shocking that parliamentarians do not understand this. The person is presumed innocent until convicted, and so how can you convict someone and charge them with an offence which could possibly carry a bigger penalty than the offence they were originally charged with? It is perverse. So if this passes in the House of Assembly, the GBHRA will be keen to act for anyone who is prosecuted for such an offence, to have it stuck down as unconstitutional. What's more, is that magistrates who do not have security of tenure cannot be punishing people with big fines or more than two years in prison. Only the Supreme Court has the power to deal with serious cases."
Dr Nottage said one of the conditions violated frequently is reporting to the police station. He said it is not very well controlled "by persons who work in police stations or officers who are in charge of police stations", and sometimes the matter is a communication problem with the judge.
Dr Nottage said an additional problem when it comes to bail is persons who post multiple bonds for several people and use the same property to sign for a number of persons. He said he would like this practice "stopped very soon".
He also said persons who are granted bail are often victims of serious crimes themselves. According to Dr Nottage, in 2014, 30 persons were murdered while wearing ankle-monitoring bracelets.
Despite being opposed to bail for serious crimes, Dr Nottage advocated bail for minor offences such as possession of a small amount of marijuana or vagrancy. He said the prison, which currently holds over 1,600, is overcrowded and the government needs to find a way to "stop jailing our young men".