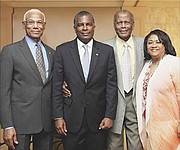 THE Bahamas National Festival Commission has announced that costume judging for the best application of indigenous material for the Road Fever street party will take place on May 5 at the Junkanoo Carnival launch event inside Da Cultural Village.
Road Fever is a signature event of Bahamas Junkanoo Carnival, which is simultaneously a world class music festival, an interactive cultural experience and an unforgettable street party. There are three prize categories for the Road Fever event: best application of indigenous material; best section costume; and best overall group.
The latter two categories are judged during the Road Fever event, which takes place on Saturday, May 7, 2016, during Junkanoo Carnival.
The BNFC assured the public that the only costumes allowed on the Road Fever route are those that conform to the rules and meet the standards of quality, officials said in a press release. From year-to-year, the BNFC will review and enforce the rules to ensure costumes always reflect a uniquely Bahamian type of carnival, the statement added.
Junkanoo Carnival will kick off April 15-16 at Taino Beach, Grand Bahama and the main event in Nassau will be held from May 5-7.