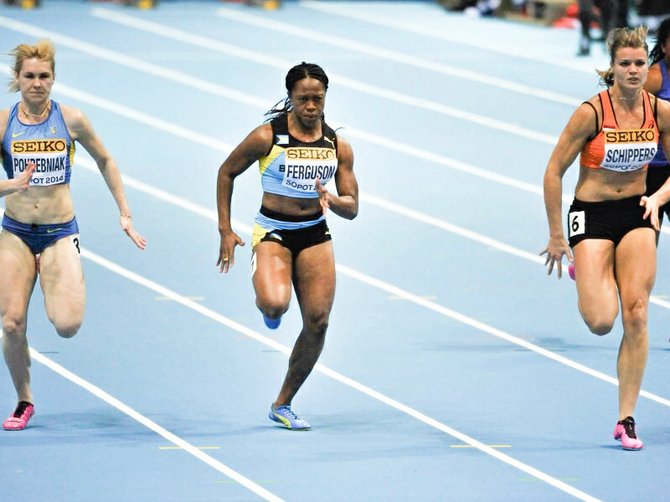 By Hubert Lawrence
Jamaica Correspondence
BAHAMIAN sprinter Sheniqua 'Q' Ferguson is loving it in Jamaica. Having made the move from her former training base to join the MVP Track Club, Ferguson says everything is going well. Despite early nervousness about the change, she is now looking forward to a fine season.
Speaking after a comfortable 100 metre win at Saturday's Western Relays in Montego Bay, the 2008 World Junior 200 metre champion said: "You know, at first, I was a little nervous because you never know what to expect and it's a big change for me."
"But I'm happy", she explained, "from I came, from the first couple of wins, I was like ok, I really like this, I really enjoy it."
"Everybody is saying it's a big change to make before Olympics", she acknowledged, "but I have faith in my coach and I have faith in God so I just have to go there and represent."
The baby faced Bahamian was coached throughout and after a successful US college career at Auburn University by compatriot Henry Rolle who directed Kerron Stewart to World and Olympic silver medals in the 100.
Now 26, Ferguson set her 100 metre and 200 metre personal bests of 11.07 and 22.64 in 2012 and won the 2010 NCAA indoor 200 title for Auburn.
At the global level, she has been to the 100 metre semi-finals at two World Championships and at the 2012 Olympic Games.
Her race in Montego Bay served as preparation for next month's World Indoor Championships. "I just wanted to come here and get in a race in to prepare for the 60 metres indoor," she said after a victory timed in 11.49 seconds. Earlier in the season, she triumphed in 7.24 seconds for 60 metres at the Grace Jackson/Queens meet in Kingston.
Now coached by Stephen Francis at the MVP, Ferguson is hoping to relive the joy she felt when the Bahamas won a 4x100 silver medal at the 2009 World Championships in Berlin, Germany. "We have a good group of girls", she said.
"It's just about getting everybody together and everybody staying healthy," she said.