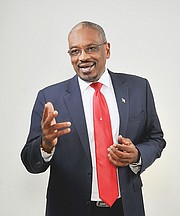 FREE National Movement Leader Dr Hubert Minnis has called on the government to declare a "war on guns" and establish a dedicated intelligence gathering facility to partner with the international community for this purpose.
Dr Minnis said The Bahamas needs an agency similar to Operation Bahamas, Turks and Caicos (OPBAT), a drug interdiction agency established through a partnership with the United States to stem the flow of drugs.

"The criminal element is having a huge impact on our society, we are losing young men, women and families - the economy is being impacted," he said. "It is having a significant strain on our healthcare resources, the social fabric of our nation and it's also leading to a brain drain.
"As you speak to the young people abroad, they are deterred from coming home because of the violence they are hearing about. It is time for the government to declare a war on guns. In the 80s, the US declared a war on drugs, the drugs were moving through the Bahamas and into the US, and affecting the US way of life.
"As a result of that, OPBAT was established. Now the guns are coming from the US and affecting the Bahamas. Individuals are selling guns and ammunition. There is a market for guns and a market for bullets – the criminals are establishing an underground economy for guns and bullets.
"Therefore, The Bahamas must declare war on guns and establish an agreement to create an entity like OPBAT for guns. With intelligence gathering and the US involvement we would be able to tell where the guns are purchased – we must get at the source so we can stop the flow of guns from America into our cities."
According to The Tribune's records, the country had a record breaking 149 homicides in 2015, many of them committed with a firearm.