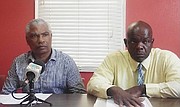 By BRENT STUBBS
Senior Sports Reporter
bstubbs@tribunemedia.net
ONE of the founders of the Cat Island Regatta is expected to be honoured by the Cat Island Sailing Club Association when the Godfrey Kelly C Class Cat Island Regatta is held in Montagu Bay.
The fund-raising event, which kicks off its Diamond Jubilee Anniversary, is all set to be held over the weekend of January 30-31 and will feature such boats as the Dream Girl, Sweet Island Gal, Jacob's Ladder, Witty K and the new Cat Island boat called Catch Da Cat.
"This year, the Cat Island Regatta is celebrating its Diamond Jubilee Anniversary making it the second oldest regatta in the Bahamas," said Pat Strachan, president of the Cat Island Sailing Club Association. "This year, the association will honour one of its co-founders, Godfrey Kelly at its 60th annual regatta in New Bight, Cat Island, July 29 to August 1.
"The regatta was founded in 1956 by Godfrey Kelly and Harold Christie. The association will rename the Cat Island Sailing Club in New Bight to the Godfrey Kelly Sailing Club. This year's Class C regatta is one of the many fundraisers the association will hold to assist with costs to organising the regatta."
On shore activities, according to Strachan, will include live music with top disc jockeys and great tasting food from stall holders from Cat Island selling crab soup, baked crab and flour cake. Interested persons wishing to inquire about utilising one of the stalls are urged to contact Burrows at 565-2440.
Cat Island native, Veronica Bishop, is expected to be among the entertainers performing.
"Over the years, the Cat Island Sailing Club Association has made a positive impact in the community of Cat Island through the awarding of scholarships, hurricane donations and assisting senior citizens," Strachan said. "This year, we had a food drive where we assisted 20 families in Cat Island. In addition to that, we have awarded eight scholarships (to Cat Island students) over the past two years."
Committee chairman Maxwell Burrows said the sailors are looking forward to putting on a show in Montagu Bay as they compete in a three-race series over the two days of competition with the action starting at 10am. However, instead of competing for cash prizes, Burrows said the boats have agreed to assist the association by competing for trophies to help out in their fundraising efforts.
"Don't miss it, be there," Burrows said. "Catch da Cat has a message for all those other boats. Witty K was reigning for some time now. Catch da Cat has a message out there for you. If you can catch da cat, trust me, at the end of the day, the claws that will be on you, will be unbelievable. Catch da Cat is a trick to it."
Catch da Cat is one of the newest boats in the C Class fleet. It was built by Mark Knowles from Long Island. The construction cost was donated by a foreign winter resident of Cat Island, but it is owned by a Cat Islander.
Strachan said they are inviting all of the Cat Islanders to come out and support the C Class Regatta as it serves as one of the fundraisers for their association to pull off the Diamond Jubilee Anniversary this year.
Strachan said they have already heard that a number of sailors are looking forward to this year's regatta at the end of July.
Of course, Strachan said they are grateful that their regatta site in Cat Island was spared from the wrath of Hurricane Joaquin as none of their facilities were damaged.
Kelly, an 87-year-old lawyer by profession, was a four-time Olympic sailor in the Dragon class in 1960, '64, '68 and '72, and was among those who started the Cat Island Regatta in May, 1956. Kelly eventually got involved in politics and served as the Member of Parliament for Cat Island for a decade.