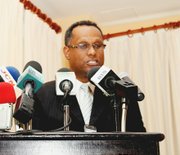 By DENISE MAYCOCK
Tribune Freeport Reporter
dmaycock@tribunemedia.net
GRAND Bahama will hold the third Majority Rule Day Parade and Cultural Extravaganza on Monday, January 11, starting at 10am with a grand street parade and procession of marching bands at Pioneer's Way.
Plans were announced at the Ministry for Grand Bahama on Wednesday.
Minister for Grand Bahama Dr Michael Darville said that tribute will also be paid to persons from the island that played a pivotal role in bringing about Majority Rule Day, including Maurice Moore and Louis Thurston. Majority Rule took place on January 10, 1967 and is considered an important milestone in the country's democracy. On that date, the Progressive Liberal Party (PLP), led by Sir Lynden Pindling, and the now defunct United Bahamian Party (UBP) each won 18 seats in the House of Assembly.
Randol Fawkes, the only Labour MP, and Alvin Braynen, an independent, won the remaining two seats. Mr Fawkes later sided with the PLP, allowing the party to form the first black-led government in The Bahamas' history.
"We anticipate an excellent parade as churches, schools, various civic groups, and marching bands will participate," Dr Darville said.
Last year, some 70 persons were honoured on Grand Bahama. Four have since passed away, including Grand Bahama resident Cornelius Williams, who died a week ago.
"All of them played a significant role to bring us where we are today," said Dr Darville, who encouraged the community to support the event.

Retired Undersecretary at the Ministry for Grand Bahama Cecil Thompson, a member of the Majority Rule Committee, said that men like Mr Moore and Mr Thurston were among the many distinguished heroes and heroines who were part of the struggle of Majority Rule.

"We are privileged to have in our presence these two distinguished men," he said.

Mr Thompson said officials expect a large turnout of participants for the parade and cultural show.
He said the parade will start in the parking lot at the Pro-Cathedral of Christ the King and will make its way west down Pioneer's Way in the vicinity of the Junkanoo bleachers, where there will be an all star Junkanoo rush-out.

Mr Thurston, who is a Cat Island native, said there are many in the country who are not aware of the history of Majority Rule.
"It was a very hard struggle; many of our parents would have suffered in the absence of Majority Rule and when it came into being we were granted the opportunity that enabled many of us to improve the situation for ourselves and families," he recalled.
"It is sad to say that much of our history is interred in our cemeteries and that is unfortunate, but it is good to know some of us who are alive are given the opportunity to speak about it," he said.
The day became an official public holiday in 2014. This year it will be observed on January 11.