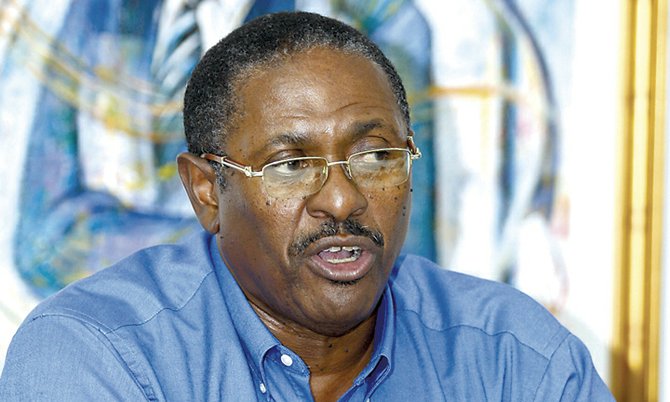 By KHRISNA VIRGIL
Tribune Staff Reporter
kvirgil@tribunemedia.net
PLP Chairman Bradley Roberts yesterday ridiculed FNM Leader Dr Hubert Minnis over his choice of "hapless, perennial losers and visionless personalities" after the party ratified its first eight candidates in preparation for the next general election.
Mr Roberts said with the selections, it appeared that Dr Minnis rummaged through former Prime Minister Hubert Ingraham's "political junkyard or graveyard" and salvaged what could only be described as a "political scrap gang".
Mr Roberts said the Progressive Liberal Party expected the opposition's candidate choices to reflect the skills and competency required to connect with voters and inspire confidence in addressing the challenges facing this country.
Instead, Mr Roberts said the Killarney MP seemed to have quickly thrown together a disparate group of individuals whose singular qualification must have been their "blind allegiance to Dr Minnis' leadership ambition and maintenance in the face of continuous challenges to his leadership".
On Thursday night, the FNM ratified eight hopefuls including Shonell Ferguson –Fox Hill; Don Saunders -Tall Pines; Frankie Campbell - Southern Shores; Leonard Sands - Bain and Grants Town; Dr Duane Sands – Elizabeth; Halston Moultrie - Nassau Village; Howard Johnson - South Beach; Zendal Forbes - South and Central Andros.
Ms Ferguson, Dr Sands and Mr Johnson all lost their bids to win seats in the House of Assembly during the last election.
Mr Roberts said: "In his desperate attempt at political survival, Minnis apparently rummaged through Hubert Ingraham's political junkyard or graveyard and salvaged what could only be described as a 'political scrap gang.'"
"The 2017 election is not about Minnis and his political survival; this is about the future of the Bahamian people.
"I offer Dr Minnis some unsolicited political advice: the Bahamian people, a discerning, informed and responsible electorate, will not be insulted with slim political pickings that fail to inspire their confidence in the areas of competence, community linkages and electability."
He added: "This initial group of eight might very well be nice guys, but there is a huge difference between having a social drink at one's favourite spot or Fish Fry with a group of nice guys and assembling a competent team of proven and committed leaders ready and able to effectively address the myriad of daunting challenges facing our country while negotiating our strategic positions in the region and in the world.
"Well I invite the Bahamian people to critically review Minnis' initial handiwork of eight and make their own judgment. Dr Minnis' decision-making skills are in a fish bowl and under a microscope because the future of the Bahamas is at stake."
Last week, a highly critical letter penned by a former council member who called into question Dr Minnis' competency overshadowed the FNM's Thursday night ratification process.
The former member, who requested anonymity, accused the Killarney MP of an "underhanded" move to oust former election candidates who are a part of the council and replace them with new hopefuls to "stack the odds" in his favour.
However, following the council meeting at the party's headquarters, FNM Chairman Michael Pintard "categorically" denied this saying the party would not exclude any former candidate from the Central Council. He said former candidates need only send him a letter requesting to sit on the council and it would be approved.
When asked about the claims of secrecy with party issues, Dr Minnis told reporters that he was unaware of where the allegations came from, adding that the ratification process had been transparent.
The new candidates will automatically become members of the party's Central Council, according to Dr Minnis.