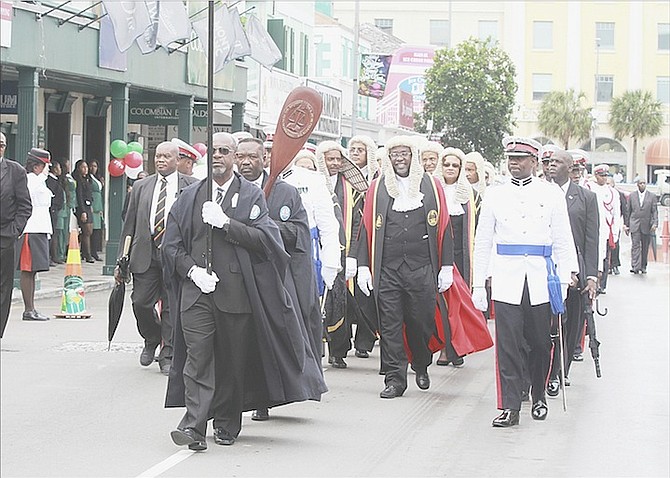 By LAMECH JOHNSON
Tribune Staff Reporter
ljohnson@tribunemedia.net
MORE courts will be needed to rid the judicial system of the extensive backlog in criminal cases, Chief Justice Sir Hartman Longley said yesterday.
Speaking at the 2016 Legal Year Opening Ceremony, the top judge stressed that the alternative to additional courts would be the disposal of old cases through the nolle prosequi process due to "a spike in criminal activity."
Meanwhile, Attorney General Allyson Maynard-Gibson told those gathered that crime in the country has risen to "oppressive levels," as she called on members of the judiciary to recommit to building a safe and peaceful nation.
Sir Hartman said: "Criminal cases are coming into the system at all levels at an exponential rate faster than can be completed. The number of criminal courts hearing criminal cases has increased to ten. The reality, however, is that we probably needed ten courts on the criminal side ten years ago and if we are to tackle the backlog more aggressively, additional courts will be necessary."
"There's a very large number of criminal cases on stream and ridding ourselves of the backlog is a must. We did not get here overnight and some tough decisions will have to be made if we are indeed to move the process forward."
"Indeed some very serious consideration will have to be made to nolle a significant number of these matters," the chief justice said.
A nolle prosequi is an entry made on the record by the attorney general which declares that the Crown will not continue with the prosecution of an individual any further and may be entered at any time before the conclusion of a trial.
During her address, the attorney general extolled the work of her ministry's Swift Justice programme, which she said has netted results.
Last January, Mrs Maynard-Gibson, QC, said that with 10 criminal courts expected to be up and running by March 2015, the target for the disposal of criminal cases was 350 or 75 per cent more than what was done the previous year.
Supreme Court criminal trials, she said last year, yielded a 54 per cent conviction rate in 2014 while murder and related offences yielded a 57 per cent conviction rate against a 43 per cent acquittal rate.
Giving her report on 2015, the attorney general admitted yesterday that the 350 case goal was not met but acknowledged that substantial progress was being made through the hard work of all stakeholders involved with Swift Justice.
"In 2012, only 118 cases, roughly, were concluded in the Supreme Court. This past year, 228 cases were concluded. In 2012 no murder matters were concluded within one year of charge."
"This past year, seven murder matters were concluded within one year of charge. 2015 was a most productive year. This shows that the system can and does work when cases are properly managed."
"Last year, on this very occasion, I set a lofty goal for the disposal of 350 cases before the Supreme Court. I do not apologise for setting our sights so high – it was the deeply held conviction that truly fundamental change is possible which drove us to conclude an additional 110 cases this year. And we now have the infrastructure and systems in place to meet even loftier targets and eliminate the backlog," the attorney general added.
Speaking directly to the backlog, the country's head prosecutor said those cases are now "being properly inventoried and their progress tracked."
"We disposed of more than 100 backlog cases in 2015," Mrs Maynard-Gibson said.