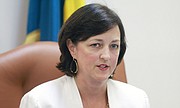 By RASHAD ROLLE
Tribune Staff Reporter
rrolle@tribunemedia.net
THE Bahamas won't see relief to its gun trafficking problems by policy changes at the executive and congressional levels of the United States government but instead through local legislative changes and strong ties between local and US authorities designed to dismantle criminal smuggling rings, US Chargé d' Affaires Lisa Johnson said yesterday.
As the government searches for answers to the country's violent crime problem, executive level discussions are centring on how to break up gangs and stop the illegal entry of firearms into this country, The Tribune understands.
Data from the US Bureau of Alcohol, Tobacco, Firearms, and Explosives (ATF) showed 97.9 per cent of firearms recovered by local authorities in 2014 were purchased or acquired in the United States.
Ms Johnson suggested that the US is intensifying its efforts to help Caribbean countries address this problem, revealing that the ATF Bureau recently took the unprecedented step of opening up an enforcement group in Florida specifically designed to prevent gun trafficking to this region.
"We fully appreciate Bahamian concerns about firearms trafficking and we're working hard together with the government to address this problem," she said during a rare press conference at the US Embassy yesterday.
"At the Citizens Security High-Level US Caribbean Dialogue here in Nassau in June, (National Security) Minister Nottage and other ministers in the region discussed with senior US officials, including those from the Bureau of Alcohol, Tobacco and Firearms, the menace that firearms trafficking poses in the region.
"We've been working cooperatively in The Bahamas and we've had some real successes. Just in the Fall, for example, there were arrests and indictments in Florida of US citizens and at the same time arrests in The Bahamas, in Freeport and we know we need to do more and the ATF specifically decided to start up an enforcement group in Florida, that's eight new agents and intelligence analysts whose full time job is working on preventing firearms trafficking to the Caribbean.
"That's the first enforcement group in the ATF with a foreign focus and we've went further and actually sent an agent to this embassy. He arrived last week and will work with the embassy on firearm cases. Moving forward we're also going to need to look at things like various entry points and identify mechanisms, policy and procedures for stopping the flow of firearms into The Bahamas."
Some Bahamian officials had hoped that the US would stiffen its laws on guns, creating a trickle down effect that strangles illegal gun smuggling to this country.
However, Ms Johnson yesterday did not seem optimistic about the possibility of this happening.
She instead spoke of potential local legislation changes the government can initiate, such as prohibiting tourists from coming to The Bahamas with concealed weapons on board aircraft.
"President (Barack) Obama last week laid out his vision for addressing gun violence in the United States," she said. "It's an enormous problem for us. It's one many people in America are concerned about. However, we have to carefully balance our constitutional Second Amendment right with the need to keep guns out of the hands of people who may get them and do themselves or others harm and that's what the president is trying to do with some of his new actions.
"There are large numbers of guns in the United States and that's not going to change so I think from The Bahamas' point of view what we have to do is stop guns from illegally entering The Bahamas and I think there are a number of things we can do on that score. One example and something I've been discussing with people in the government is another country in the Caribbean has passed legislation making it illegal to import a gun in your checked luggage on an aircraft and it's actually very effective.
"In Miami, for example, when someone goes aboard the aircraft the airline will see a red banner across the top that says it is illegal to import a firearm in your checked luggage and they will tell someone if they have a gun in a luggage that it has to come out. That's just one really simple measure.
"That's not how most of the guns are reaching The Bahamas. There are many other different conveyances, from mail and shipping services, in cargo containers, in private craft, there's more that can be done working together with customs at the port of entry and that's something we want to continue working with The Bahamas on but you're not going to find the answer to your gun problem in US legislation or change in policy. You are going to find it by working closely with us on investigations and breaking up some of these criminal rings that are bringing guns into this country."