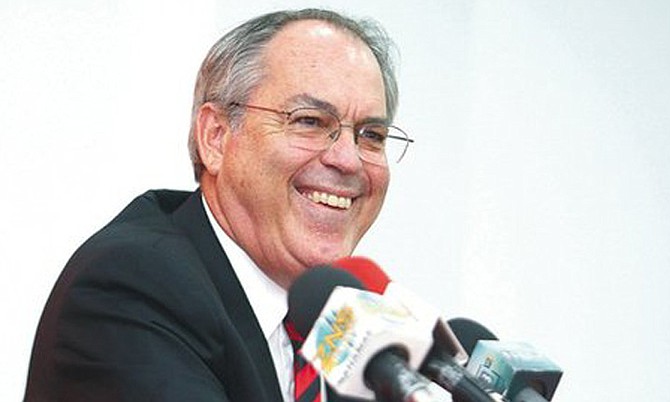 By KHRISNA VIRGIL
Tribune Staff Reporter
kvirgil@tribunemedia.net
IF FREE National Movement Leader Dr Hubert Minnis is comfortable in his position at the helm of the party, then the party's next convention should have executive posts up for a challenge, former Deputy Prime Minister Brent Symonette said yesterday.
He told The Tribune that he did not understand why the party would consider doing otherwise as political organisations thrive best under a democratic process.
This comes the day after FNM Chairman Michael Pintard revealed to this newspaper that there was a possibility the party's next convention could be a non-voting event.
The FNM's Central Council has not yet made a decision on this and has not set a date for the proposed event.
"I would hope the leadership would consider what is in the best interest of the party and go for a voting convention," Mr Symonette said when contacted for comment.
"If the leader is comfortable in his position I think it would be even more reason to have voting at the convention.
"I believe there should be voting as it is what happens in every fully-fledged political organisation. I don't see why the party should even consider otherwise.
"It is important to say though that in conventions not only is the leadership post open but I think there are 50 positions open for voting."
Asked if he thought the leadership post would be challenged at a new convention, Mr Symonette said he did not know.
"You are running a number of articles that (suggest) people might be unhappy. It is up to those people to come forward. I am not aware of anyone who has thrown their hat into the ring to say they will contest it. But again I say it would be in the best interest of the party to have a voting convention."
On Wednesday, Mr Pintard said should the FNM Central Council choose a non-voting convention the event would only be held to share the party's vision, outline elements of its plan of action, share different dimensions of its platform and/or modify the constitution of the party among other things.
This comes amid persistent calls from some in the party for a convention to settle ongoing disputes about Dr Minnis' leadership.
This week, FNM MP for St Anne's Hubert Chipman and Mr Symonette both said the party should hold a convention before the next election.
Recently, FNM members – who have asked to remain anonymous – have drawn attention to internal party politics where they have insisted that Dr Minnis has engaged in alleged underhanded dealings to ensure he remains at the helm of the organisation.
There is also a groundswell of support for Long Island MP Loretta Butler-Turner to lead the party, despite her resounding loss in her bid to unseat Dr Minnis at the party's one-day convention in 2014.