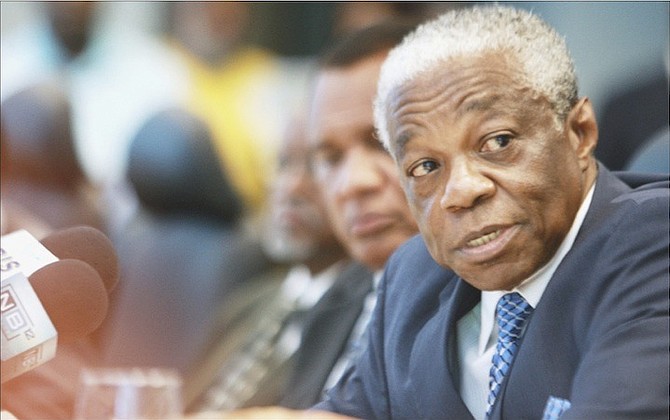 By SANCHESKA BROWN
Tribune Staff Reporter
sbrown@tribunemedia.net
THE government has invited a special task force from the US' Federal Bureau of Investigation to assist local law enforcement agencies in combating "the drug and gang culture", according to Minister of National Security Dr Bernard Nottage.
In an interview with The Tribune at police headquarters on Saturday, Dr Nottage said he, as well as Commissioner of Police Ellison Greenslade, will give an update on the government's new crime fighting strategies this week.
Earlier this month, Dr Nottage met with US officials at FBI headquarters in Washington, DC, to discuss concerns surrounding the crime problem in The Bahamas.
Dr Nottage said he was made aware of a number of crime fighting strategies in those meetings that, if implemented in The Bahamas, could "significantly reduce the crime problem".
"There are issues on the crime front in The Bahamas that are difficult particularly the whole question of gangs.
"There seems to me to be a connection between drugs, guns and gangs and the gangs are primarily made up of at risk young men," Dr Nottage said.
"The gang culture is at the root of many of the murders and it is our impression that people are really very concerned about the number of murders in the country, more than anything else, more than any other crime. So it is important for us to look at how other people are fighting this problem in other parts of the world and one of the places we went to look at what they are doing is Washington.
"The FBI has a number of gang task forces in different parts of the United States which are using new strategies in dealing with gangs and we went to look at that and the truth of the matter is what we have seen is a lot that is different than what we are doing here. So the prime minister is of the view that it may assist us and assist law enforcement agencies to invite a task force (from the) FBI to come to the Bahamas to look at what we are doing and advise us. Consultation is something we have in other areas of governance but we have not done a lot of that in law enforcement and I think it will do us well to have that kind of exposure and let them see what challenges we have and what suggestions they may have for us."
Last month, Prime Minister Perry Christie vowed that the government would introduce "tougher measures" to combat crime in 2016. During his Christmas address to the nation, Mr Christie said reducing crime is "a challenge of the highest priority" and the government is determined to "wrestle it to the ground in the New Year."
The country recorded 149 murders last year, the highest ever in the history of the Bahamas. The previous murder record came in 2011, under the Ingraham administration, which saw 127 killings that year.
The country has already recorded four murders this month.