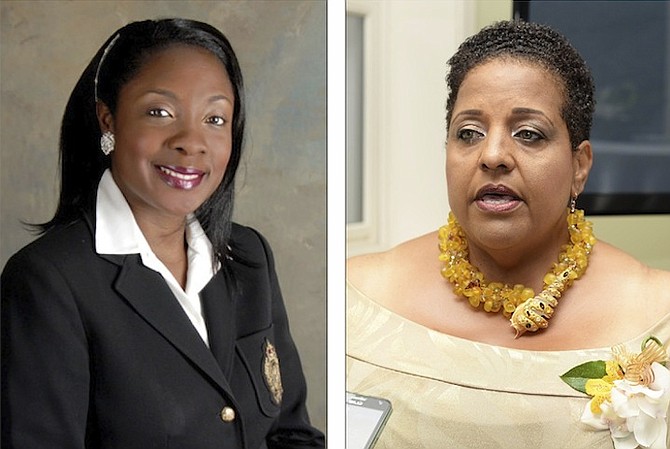 By TANEKA THOMPSON
Tribune News Editor
tmthompson@tribunemedia.net
THE scathing criticism recently levelled against Long Island MP Loretta Butler-Turner and other Free National Movement MPs by Senator Lanisha Rolle was "appalling" and needs to be addressed by party leader Dr Hubert Minnis, Montagu MP Richard Lightbourn said yesterday.
He added: "I think the majority of people that I have heard comment on it feel that she should resign as a senator and I feel difficulty disagreeing with that view.
"I think that was totally uncalled for, she seemed to be saying it with some passion. I think that the leader should have addressed it by now, I trust he would deal with it in an appropriate manner."
Mr Lightbourn was contacted for reaction to comments the FNM senator made on a talk show last week, which some regarded as a personal attack on Mrs Butler-Turner and others in the FNM who have expressed concerns about Dr Minnis' leadership. He said he felt that he was one of the "jealous" FNM MPs to whom Senator Rolle referred.
Former Deputy Prime Minister Brent Symonette also weighed in on the matter yesterday, saying the senator's remarks were "unfortunate" and "offensive".
Last Thursday, Ms Rolle called in to the 96.9 FM talk show "The Conversation" with host Shenique Miller to defend Dr Minnis, while castigating those in her party who do not appear to support him.
"The fact is that Dr Minnis has the majority of support of the party and that is about 492 councillors and thousands of voters, versus one, two, three or four persons who are holding seats for now, until the people say otherwise," Ms Rolle said on Thursday.
"The country in my opinion will not support Loretta Butler as leader over (Prime Minister) Perry Christie.
"Dr Minnis is Christie's match and he will win with the help of God, not man.
"Some sitting MPs are, and let's call it what it is, they are jealous, some are envious of the favour Dr Minnis has with the masses and they are in positions of power.
"Some of them have chosen to misuse their positions of power for self-serving interests and not in the interest of the country. So therefore they have caused the focus to change."
Ms Rolle also compared Mrs Butler-Turner to US presidential candidate Hilary Clinton, noting that despite Mrs Clinton losing the presidential nomination to Barack Obama in 2008, she later "humbled herself" to become the president's secretary of state, working to advance his agenda.
Her remarks set off a firestorm of commentary on social media, with many observers viewing her rebuke as further evidence the FNM was a fractured party, still struggling to find its footing after a crushing defeat in the 2012 general election.
"It's unfortunate that members of the FNM continue to carry on a public discourse on the affairs of the leadership of the FNM," Mr Symonette said when contacted for comment.
He added: "You've got to have a right to free speech, some people may think she (Ms Rolle) went too far, but (she shouldn't) be stripped of her Senate post or rebuked. Maybe her tone was offensive but she is entitled to that opinion."
Last week, Mr Symonette and Mr Lightbourn called for the FNM to hold a new convention before the next election, where party positions could be contested.
"I'm on record as saying the FNM should have a convention and a voting convention (so) that if persons want to run for leadership and/or the remaining 50-odd posts, or whatever they have in the FNM, that now would be an appropriate time to have that election of offices and leader and those that come forward, whoever wins, wins," Mr Symonette said.
"There may be someone whose name no one has ever considered or is not considering that might want to come forward. So I think in the interest of democracy that should be allowed to take its full play. If Dr Minnis has the support that Senator Rolle thinks he has, so be it. I don't think it helps anything for people to say people are self-serving. I don't know that, I've met with several of these people Ms Rolle's talking about and they have their own point of view, which is part of a democracy."
Instead of fighting with each other, Mr Symonette said the Official Opposition should focus on highlighting the failures of the Christie administration.
"What we really should focus on is the state of the economy, Mr Christie keeps saying good news on Baha Mar and we're three months later we haven't heard anything, the national debt has increased, they just borrowed another $33 million, crime is through the roof. You go down to (The Pointe development) – unemployment is 14.8 per cent – and all I see are foreign nationals pushing wheelbarrows at that place."
He added: "Mrs Butler-Turner hasn't even thrown her hat in the ring to run against the leader, so there's no discussion. I don't know that she's running, so I think the national issues are far more important than worrying about whose going to run (against) the leader of the FNM."
Mrs Butler-Turner lost her bid to unseat Dr Minnis as leader of the party at the FNM's one-day convention in 2014. Despite his resounding win, Dr Minnis has been dogged with criticism about his decisions and division within his party.