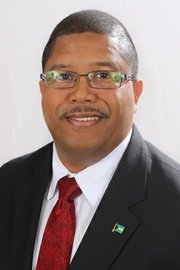 By SANCHESKA BROWN
Tribune Staff Reporter
sbrown@tribunemedia.net
FREE National Movement Deputy Leader Peter Turnquest said that the government's decision to bring in a special task force from the US' Federal Bureau of Investigation to assist local law enforcement with crime, proves the Progressive Liberal Party was not truthful about having the solution to crime in 2012.
Mr Turnquest told The Tribune that bringing in outside help is an "admission" that the government did not have a plan to combat crime and allowed three and half years to pass knowing what it was doing was "ineffective".
However, he said, he is "glad" the government has recognised its "weakness" and plans to bring in some foreign expertise, but hopes the arrangement was made after consultation with Commissioner of Police Ellison Greenslade.
"I would hope these persons being brought in (are an) addition to what is available in the police force and not to interfere with what they are doing. The FNM believes in the police force and its capabilities and we believe they are very effective as long as they are allowed to do their jobs without interference," Mr Turnquest said.
The East Grand Bahama MP also said he believes the government needs to fix the issue of bail for serious offences and other problems in the justice system before officials seek help from elsewhere.
"Bringing in the FBI will not help if we don't deal with this bail issue. One of the first things the government did when they came in was reduce the mandatory minimum sentences for gun possession which was counter productive to what the police department and the prosecution was trying to do," Mr Turnquest said.
"We need to look at the effectiveness of the ankle monitoring system and see if it is working and the laws surrounding it are having a positive effect. Let's fix these things before we move forward."
On Saturday, National Security Minister Dr Bernard Nottage told The Tribune that the government has invited a special task force from the FBI to assist local law enforcement agencies in combating "the drug and gang culture."
The willingness to embrace foreign advice on crime is a sharp turn away from the Progressive Liberal Party's stance while in opposition.
In March 2012, the Ingraham administration brought in former New York Police Commissioner William Bratton to advise Bahamian police on effective ways of reducing crime.
The PLP called the visit a "media gimmick" and challenged the government to address crime "all the time and not just at election time."
In a 2012 press release, the PLP said: "Bratton represents the FNM's latest last minute, superficial attempt to persuade Bahamians that they care about crime."
Meanwhile Dr Nottage said he, as well as Mr Greenslade, will give an update on the government's new crime fighting strategies this week.
Earlier this month, Dr Nottage met with US officials at FBI headquarters in Washington, DC, to discuss concerns surrounding the crime problem in The Bahamas.
Dr Nottage said he was made aware of a number of crime fighting strategies in those meetings that, if implemented in this country, could "significantly reduce the crime problem."