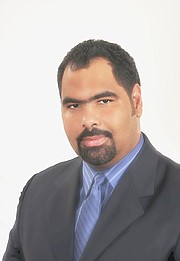 The Chamber of Commerce's chairman yesterday admitted the Bahamas' economic and fiscal reform process was moving "a lot slower" than desired, as he called for unity to ward off a threatened downgrade.
Gowon Bowe urged all the political parties to "work hand in hand" to present the Bahamas "in the most favourable light" possible, after Moody's placed this nation's credit rating on a two-month review.
With the Bahamas facing a downgrade of its sovereign creditworthiness to possible 'junk' status by end-August, Mr Bowe acknowledged that the constant revisions to its GDP growth and fiscal numbers had done the country no favours.
"All of the rating agencies are going to be cognisant that the fiscal balance and deficit have been projected out a further year from where it was," he told Tribune Business.
This newspaper last week revealed how the Government had pushed back the timeline for eliminating the GFS deficit by three full fiscal years to 2018-2019.
It had originally projected that the 'red ink' would be over by the 2015-2016 fiscal year, but has been forced to revise these projections after it became apparent that the pace of consolidation was much slower than desired.
And one year after touting that the GFS deficit for 2014-2015 was lower than projected at $198 million, Prime Minister Perry Christie revealed that the gap was actually $381 million - a near $200 million revision.
"The revisions to prior year estimates are going to be a concern because that leads to changes in where the Government's deficit numbers will be," Mr Bowe acknowledged.
"I would imagine that anyone analysing the fiscal indicators would be cognisant, and very wary, of changes to these previous numbers. No doubt that will be one element of it [with Moody's]."
Moody's announced on Friday that it was placing the Bahamas "on review" for a potential downgrade, due to both its unexpected economic contraction and further deterioration in the Government's fiscal position.
Moody's move appears to have been sparked by Prime Minister Perry Christie's affirmation of official Department of Statistics data showing that the Bahamian economy contracted by 1.7 per cent in 2014, following a 0.5 per cent shrink in 2014.
This contrasted sharply with previous positive growth estimates by both the Government, Moody's and the International Monetary Fund (IMF), all of whom believed the Bahamian economy had expanded over those two years by between 1-1.5 per cent of GDP.
With both Standard & Poor's (S&P), and now Moody's, threatening downgrades that could drop the Bahamas' to 'junk' creditworthiness and cost it its investment grade credit rating, Mr Bowe said national unity was more important than ever.
"In reality, it's how we sell our story and how committed we are to the plans we've set out," Mr Bowe said, alluding to how the Bahamas could 'persuade' Moody's not to downgrade.
"We've committed quite a lot to the balance and the fiscal deficit, and are going to be continually assessed on how we're doing there."
He continued: "This is where we, as a collective grouping, the political parties, persons that are pro or against some of the initiatives, should be working hand in hand to position ourselves in the most favourable light, as the implications are far-reaching.
"I'm not one to panic in this regard. We are moving in the right direction, albeit a lot slower than we'd like, myself included."
Mr Bowe said the Bahamas also needed to "challenge the credibility of the rating agencies with the emphasis on Baha Mar", suggesting both were placing too much focus on the impasse surrounding the $3.5 billion project.
The Chamber chairman and others, including the Government, have frequently argued that Baha Mar should be viewed as a 'bonus' to the fiscal consolidation push, as the Bahamas has been making progress without it.
Mr Bowe added that while the Bahamas needed to be careful, "as we're not the ones carrying the stick", it could also challenge Moody's over why its own GDP growth estimates for this nation had been so far out.
He added that the Department of Statistics and Ministry of Finance also needed to assess what had happened with the GDP growth projections, and why initial positive estimates had turned to contractions of 0.5 per cent and 1.7 per cent, respectively, for 2014 and 2015.
"All parties should be feeding from the same type of numbers," Mr Bowe said of both the Government and external agencies.
"We can debate about fiscal policies, the strategy, but shouldn't be having a debate about actual events that took place.
"I certainly believe this is one area we should be revisiting to understand why the numbers are so different, particularly when they are around the edges of negative and positive growth," he added.
"The Ministry of Finance and Department of Statistics should want to be having accurate numbers where GDP growth is concerned."
Apart from its shock at the revised negative growth numbers, Moody's 'review' also appears to have been sparked by concerns that the Christie administration's consolidation plan has yet to arrest the growth in the $6.6 billion national debt and related ratios.
It pointed out that "debt accumulation" has continued to increase, with the Government's direct debt-to-GDP ratio growing by five percentage points in two years to hit 65.2 per cent at the June 30 end to the 2015-2016 fiscal year.
And Moody's also appears concerned that the Christie administration consistently fails to hit its Budget projections, and the adequacy and effectiveness of its policy responses to the Bahamas' problems.
"The decision to place the ratings on review was prompted by the continuing rise in risks to the country's medium-term economic prospects and to its fiscal strength, notwithstanding the Government's ongoing fiscal consolidation programme," Moody's said on Friday.
"The review will allow Moody's to assess the likelihood that economic growth prospects will improve, debt metrics will stabilise and government policy will effectively address its macroeconomic and fiscal challenges."
More like this story