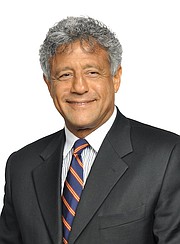 The Government would help create a "far greater" number of "meaningful" Bahamian jobs if it abandoned its current development approach in favour of the 'green economy', a well-known QC believes.
Fred Smith QC, the Callenders & Co attorney and partner, said such an economic model would help to attract investors and visitors from the United States and elsewhere, many of whom were attracted to environmentally-friendly destinations.
He argued that it would also create many more sustainable, high-paying jobs, than the current development approach being employed in the Bahamas.
Mr Smith was responding to Khaalis Rolle, minister of state for investments, who had expressed concern to Tribune Business that the numerous Judicial Review actions he has led on behalf of environmental activists were impeding legitimate developers, and undermining jobs and economic benefits for Bahamians.
"What Mr Rolle fails to understand is that a 'green economy', in which the Government invests in training and human resources development of a cadre of Bahamian professionals in biodiversity, architecture and construction, and environmental regulatory agencies, would create a far greater permanent establishment of meaningful and dignified jobs for Bahamians," Mr Smith told Tribune Business.
"It would create a green economy, in which regulated and controlled sustainable development is the preeminent feature, and which would cause the Bahamas to be one of the most desirable and affordable locations and investment environments in the world."
Mr Smith said the Bahamas "sits on the doorstep of the American gold mine", which he described as the south Florida economy, adding that a so-called 'green economy' would attract greater investment and visitor numbers from the state.
"If we would simply adopt a green and environmentally regulated development policy, there would be no end of job opportunities, foreign direct investment, legitimate and transparent processes.
"There would be opportunities galore for the future employment of thousands of Bahamians and those coming out of school," he added.
"A green economy, an environmentally-respectful economy, creates jobs. It doesn't stop development; it promotes development. The PLP and FNM's myopic, medieval and secretive approach to development in the Bahamas is what creates adversity."
Mr Smith said the Save the Bays group, for which he is the legal director, supported development that was properly regulated, environmentally and socially friendly, and sustainable.
"We realise, of course, that development and growth is necessary to promote jobs and opportunities for Bahamians," he added.
"We encourage regulated, environmentally sustainable development, and we will always continue to oppose secretive, disrespectful, disproportionate, socially destructive and culturally inappropriate development."
Mr Smith suggested that foreign developers, especially Americans, appreciated a regulated environment, given that at home they were accustomed to having to obtain federal, state and city approvals for all their projects.
"In Miami, you cannot put up a picket fence without consultation with your neighbours," he added.