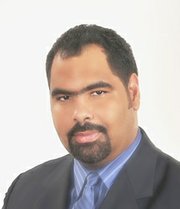 The Government's short-lived majority ownership of the Bahamas' second mobile provider will end in early September, when it is replaced by private capital via an offering set to launch next month.
Gowon Bowe, the PricewaterhouseCoopers (PwC) accountant and partner, told Tribune Business that HoldingCo's private placement memorandum (PPM) is being "finalised" for an early August release.
Mr Bowe and PwC , who are acting as financial advisers to the process, expressed confidence that the offering will be fully subscribed and "get the Government" out of HoldingCo's ownership.
While declining to state the total sum that will be sought from Bahamian institutional investors, Mr Bowe said the Government had ensured HoldingCo was "fully funded" through its initial start-up phase.
HoldingCo, which will eventually be renamed, is the vehicle that will own the majority 51.75 per cent equity interest in NewCo 2015, the Bahamas' newly-licensed second mobile operator.
It will be partners with fellow NewCo 2015 shareholder, Cable Bahamas, which despite owning a minority 48.25 per cent, has Board and management control after defeating all rivals to win the second licence.
Mr Bowe explained that the Christie administration had only stepped in as HoldingCo's owner on an interim basis, both to ensure that NewCo's launch and infrastructure roll-out are not delayed, and that it could finance its share of the associated costs.
The initial mobile/cellular liberalisation request for proposal (RFP) allows the Government to step in as HoldingCo's initial owner if private capital is unwilling to become equity investors in the company.
Such a scenario has occurred, with Mr Bowe explaining that - while interested - institutional investors had provided feedback saying they could not commit without first assessing NewCo's business plan and its projected financial performance.
"It was difficult to get institutional investors interested with no financial information," the PwC partner said simply.
"That was recognised, in terms of the lack of financial information, so we were not going to push that envelope. We knew we needed financial data and financial information. The final leg was the financial plan for NewCo."
That was not available until NewCo's recent incorporation and set-up, meaning it was impossible for potential investors to do the desired due diligence.
"I would say that by the end of the month, the final PPM and opening should be in progress," Mr Bowe told Tribune Business of the offering.
"We'd like the investment groups to be mulling over it, and make a decision, in the month of August. The aim is to have it [the PPM] out in early August, so by the beginning of September the offering will be closed down and the cash flowing in, removing the Government shareholding."
While the total sum sought by the private offering "can't be disclosed at this time", Mr Bowe said that based on investor feedback to-date "we think we will get the full proceeds to get the Government out".
"Any placement agent and underwriter will tell you that until they see the signature on the dotted line, you never know what you're going to raise," he added.
"But there are limited investment opportunities in the Bahamas for diversification, and this particular opportunity, which is an opportunity to invest in the assets of the country, is particularly appealing.
"The exercise with HoldingCo is now going to move to the final stages. The PPM has been drafted; it has not been finalised. It has been put out for comment by institutional investors," Mr Bowe continued, suggesting this process would be completed in the next two weeks.
"The target audience have been canvassed already. They'd expressed an interest, and were awaiting financial information to do due diligence and get information for their trustees and investment committees, so they could be confident that it was a sound investment and good for cash flow."
The PwC partner said launching the PPM rapidly was a priority, given that HoldingCo did not want to have to compete with rival investment offerings that could come to market.
"We're working fast to get the PPM in progress," Mr Bowe told Tribune Business, "so that there are no competing investment opportunities that divert funds from this.
"Pension funds, credit unions; their whole aim is to deploy cash as quickly as they can, as cash does not earn them any money."
Mr Bowe said they were also seeking to time the PPM for when other investments were maturing or being redeemed, particularly fixed income securities, so investors could switch funds into HoldingCo.
The PPM, which will outline the terms and conditions attached to investing in HoldingCo, is being targeted at select institutional investors such as pension funds, credit unions and Bahamian investment/mutual funds.
This is to ensure HoldingCo's equity owners represent the broadest possible Bahamian investor base, especially given that its remit is to act as a vehicle for future investment in public-private partnership (PPP) and infrastructure opportunities - and not just be limited to NewCo.
"It's an opportunity for HoldingCo to take ownership, and is attractive to Bahamians based on the returns they can earn, while providing a vehicle for future PPP activity," Mr Bowe told Tribune Business.
"There is an element of bated breath and excitement, as it's [HoldingCo] an idea most Bahamians see as the way of the future."
PwC has been one of the main advisors to the Government and its Cellular Liberalisation Task Force on the near-20 month process that led to the June 30 award of the second mobile license to NewCo.
Mr Bowe said the process had moved at a "reasonable pace", even though this may not have been obvious to persons on the outside.
NewCo has already held its first Board meeting, featuring four Cable Bahamas-appointed directors, together with three temporary ones nominated by HoldingCo (the Government).
Mr Bowe said the two sets of directors had been working "collaboratively" to complete all the documentation necessary for NewCo's incorporation and launch, plus the PPM.
Apart from the "formalisation of the financial plans and strategy documents", the two sides have also had to conclude arrangements regarding the management services Cable Bahamas will provide, and associated.
"URCA has issued the licence, so you can take that to mean the funds have been transferred for the spectrum fee and the Government has funded HoldingCo for the initial stages," Mr Bowe confirmed.
Cable Bahamas beat out Virgin Mobile (Bahamas) with a $62.5 million bid to acquire the wireless spectrum that NewCo will use to deliver its services to Bahamian and residential consumers.
The long-term plan is that HoldingCo will act as a vehicle through which Bahamian institutional, and potentially retail, investor capital can be pooled to invest in public-private partnerships (PPPs) and other key infrastructure projects and assets.
The imminent liberalisation of Bahamian mobile communications will end the last - and most lucrative - Bahamas Telecommunications Company (BTC) monopoly.