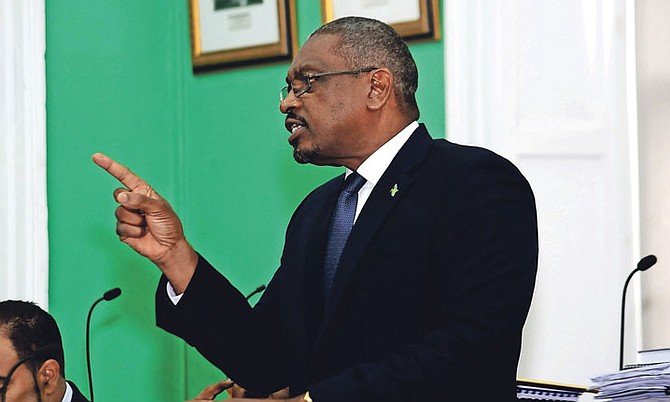 By TANEKA THOMPSON
Tribune News Editor
tmthompson@tribunemedia.net
FORMER Free National Movement (FNM) Chairman Darron Cash has accused party leader Dr Hubert Minnis of removing two people from the FNM's Executive Committee, which he alleged was done "for the purpose of adding a few more votes at convention".
In a scathing statement released to The Tribune yesterday, the former senator accused Dr Minnis of being "petty" and "vindictive," saying the Killarney MP does not want those who have opposing views around him.

Mr Cash said he has also heard rumours that he too was going to be removed from the FNM's Executive Committee. He said while this has not been confirmed, he would not be surprised if it happened.

Dr Minnis could not be reached for comment yesterday and FNM Chairman Sidney Collie would not confirm or deny the allegations when contacted.
"I have heard about and read the reports on social media regarding the possibility of my removal from the Executive Committee by Hubert Minnis," Mr Cash said in his statement. "While I have not received any confirmation to that effect from the 'leader' it would not surprise me if he did such a thing.
"It is a classic Hubert Minnis move. I am aware that he has in fact removed two other persons whom he appointed to the Executive Committee, specifically for the purpose of adding a few more votes at convention."
He added: "For a leader who won by a substantial margin in the last (convention), this latest ... act is the act of a desperate person who is determined to cling to power by any means necessary. It is a mark of a small minded and petty person, never mind that last week Wednesday he was preaching about party unity.

"I am glad he is taking this kind of action and that he has publicly announced his intention to do so to his campaign team. His small mindedness and vindictiveness are now being revealed to the wider FNM membership. It is the main reason why the FNM is so fractured today. He wants no one around him who opposes his views."
Mr Cash also noted that the last time former Prime Minister Hubert Ingraham spoke publicly, it was to express his disappointment that Dr Minnis did not appoint Dr Duane Sands to the Senate earlier, despite the former FNM leader's recommendations to do so over the past four years.
"Petty, spiteful and vindictive will be the words that remain to describe Hubert Minnis long after he is gone from FNM politics," Mr Cash added.
The allegations are the latest to emerge from the FNM, a party that has been dogged with infighting and tension over the past few years, with some dissatisfied with Dr Minnis' leadership.
An early convention date was set after six out of 10 FNM members of Parliament threatened to have Dr Minnis removed as leader of the Official Opposition in Parliament by way of a petition to Governor General Dame Marguerite Pindling. The November convention was pushed up to July 27-29.
Last Wednesday, Dr Minnis and his rival, Long Island MP Loretta Butler-Turner, both launched their campaigns at separate events. While Dr Minnis had the largest crowd, Mrs Butler-Turner had the most support from present and former FNM parliamentarians and senators.
Speaking to reporters after her event, former FNM Leader Tommy Turnquest said he does not believe Dr Hubert Minnis has the "leadership ability" or the "personality" to defeat the current administration in the next general election.
Mr Turnquest, who has endorsed Mrs Butler-Turner and her running mate for deputy Dr Sands, also said Dr Minnis has underutilised the talent in the FNM and he is unable to deal with "free thinking people."
However Dr Minnis has received staunch support from others like former FNM Cabinet minister Tennyson Wells and Maurice Moore, considered by some to be one of the FNM's founding fathers.
Last week, Mr Moore said he is frightened by the idea of Mrs Butler-Turner and Dr Sands leading this country, saying the two are inexperienced.