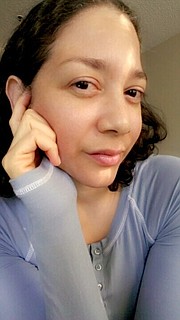 By Nicole Burrows
One week ago today, I was getting ready to go and celebrate US independence in America with Americans.
In all my years in college, I had never done it. I was anxious and excited – anxious, mostly because I don't like crowds and there was already an estimated turnout of over a hundred thousand people … one quarter of the Bahamian population.

But it was easy to get over that anxiety, and the headache that came with the heat, as soon as I saw the numbers of people flocking to celebrate, sprawled all over the place, lying on hot concrete, sitting wherever they could, pitching tents, bean bags, sleeping bags, folding chairs. There was excitement in the air - but it wasn't just the kind you get when you're having regular fun. I could feel the pride of the people around me. And I found myself a little envious of the fact that I had left my country, in which I've lost almost all pride, to make that same country better from another country where the people were brimming with pride.

The last week hasn't been reflective of that pride, with all the racial hatred and tension brimming across the country. It's almost as if we have lost 50 years of progress in US race relations … somewhat akin to the 40 years of progress lost in The Bahamas, perhaps for different reasons. Or are the reasons the same?
I stood as one person in the crowd of hundreds of thousands and observed how, in spite of its troubles, America can still pull off a celebration of independence with such grace and fanfare. Children, obviously of recent immigrant origin, now with faces painted in red, white and blue, dressed in the same colours, singing their new national anthem from their bellies. It was utterly moving; I wanted to cry.
Why do I feel this contagious pride of an American in America but I can't muster any pride in the Bahamas, whether or not I'm physically there? And while the water accumulates in my eyes, and the fireworks go off to the sound of very appropriate US anthem songs of every genre, I start to feel anger.

I wouldn't be here if I didn't think my being here would make it better for my people in any small or big way. And I made a conscious decision to uproot myself. But I'm still angry, because I feel like I've been yanked out from the place of my oldest and deepest attachment just to save myself and my people. In time, it will be clearer to me and to you exactly how that will work, but for now, in this moment of US patriotism, I am embittered by my loss of Bahamian patriotism, at least in theory. I want so much to be of a country I can feel proud about, and I wish that country could be the one of my birth, but right now it isn't and it's not shaping up to look as though it will be.
And then comes Prime Minister Perry Christie with his independence day message for Bahamians. He says: "The passage of time has in no way dampened the sensations of patriotism and national pride that we, as Bahamians, always feel each year as July 10 draws near …" and immediately I think he should fire his speechwriter. I'm not sure which bubble he's living in, but Bahamian patriotism is deeply dampened … wounded, disabled even. As a speechwriter, I am aware of the colourful language required to motivate listeners, but it's all stale and empty rhetoric now. You see, when you've been forced to be cynical to cope with reality, it almost doesn't matter what good a politician thinks he's doing.

Mr Christie, the people just don't see what you see or what you want us to believe you see. I am not convinced that you yourself believe in the content of the speeches and messages you deliver or if you fight to convince yourself every time you give one, but people tend to be persuaded by what they find sincere. These words you send us on every official occasion are void of reality. Everyone wishes for better all around, but you highlight only the platitudes and the fairy tale, never touching on the real, negative realities Bahamians face every day. Would it hurt you to say something honest? At least on occasion? Can you identify your failings, if only two of 2,000 of them?

Because, regardless of whether you tell us they exist, we are very aware and can see them, and are only more annoyed that you think smooth rhetoric will help you to coast over the real life we all live on this side of fortune. If you do this, maybe Bahamians will have more empathy towards you which would translate into more support at the polls in 2017. But never you mind: why should I tell you how best to get re-elected because, as a general rule now, Bahamians have no interest in Progressive Liberal Party or Christie leadership going forward.
You say: "It is undeniable that over the past 43 years, our nation and its people have made great strides towards becoming a more prosperous and socially just society for all." Firstly, are 'the nation' and 'its people' not one in the same? Secondly, could you please enumerate these great strides? Because what we're seeing in our non-alternate universe is that The Bahamas is broke and getting broker by the second, with a contracting economy and no viable economic improvement options for the future.

I think that polish on your crystal ball is working too well, because you see beyond the realm of possibility. You can't wish away a failing economy or all the social ills that come with it. And a socially just society? I need only reference one shameful social sickness that is crushing our development: every other day there is some headline about some man raping some young girl or boy, with little punishment for ruining these children's lives … the very same children who grow up mentally disturbed and wreak havoc on the nation as they act out their early abuses.
You say: "There is so much in the form of measurable, impactful contributions to nation-building" and "these accomplishments have covered a wide and diverse swath of effort and high achievement in so many areas of national life". You list the areas of accomplishment, but you don't say what exactly those accomplishments are. Where is the evidence of this 'everything is going good' speech?

Perhaps the most confounding part of this message is that you think we have come so far up, when we think we have come so far down. In your words, "even the most cynical and jaded of critics must concede how far we have come in such a remarkably short time". I suppose a fall from grace is quite a distance from the start.

Here's a tip: the greatest reflection of your success in your 40-plus years of political life, of your governments, past and present, and unfortunately of the nation called The Bahamas, would be in the number of further educated young women and men who are trained in many different professions, white collar or any other, whom you are able to successfully lure back to The Bahamas.

I'm referring to those higher educated individuals for whom your government, now and then, has provided boundless opportunities with no restriction on their ability to acquire business or personal resources without going through somebody's back door. If two thirds of your young people never come back, that means they can do better elsewhere and what you have for them is not yet good enough, not progressive enough … an environment, essentially, that discourages and challenges competition with brute retaliation and hostility, discourages innovation by producing a low quality education … and this environment is nothing to be proud of or deem a success by any stretch of what appears to be very elastic imagination.
Mr Prime Minister, the people live the truth of their circumstances. If a majority among them find life to be severely problematic for Bahamians in The Bahamas, it probably is and they probably aren't lying. Believe them. You'll be insulted less if you do … at least acknowledge it.
But to be plain with you, it makes no difference how kind people are to one another every day if none of them have work or food and constantly rely on others to provide their basic human needs, or go without them, because their government, their leaders, didn't include them in a human improvement plan.
When part of a judge's ruling is that we won't punish a thief too much because he's already humiliated enough by the outcome of the mere disclosure of his thieving, we have nothing to be proud of … it's just a sample of the larger trough of problems that have crushed any hope of real independence in The Bahamas. Oh, were everyone who committed a crime in The Bahamas so fortunate to be spared embarrassment by their own acts, many of which would never come to light were it not because of someone else's information, insistence and investigation.

Comments to nburrows@tribunemedia.net