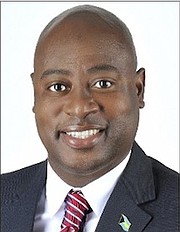 By SANCHESKA BROWN
Tribune Staff Reporter
sbrown@tribunemedia.net
LEONARD Sands, the Free National Movement's (FNM) candidate for Bain and Grants Town, said yesterday the continued "infighting" within the party as well as "personal considerations" have forced him to suspend his campaign.
In an interview with The Tribune shortly after he released a statement announcing his decision, Mr Sands said it is his wish to see the FNM overcome the issues that are now plaguing the party.
He also said while his reasons for suspending his campaign are not solely because of the drama within the Official Opposition, there are others who "are tired of it" and he predicted more announcements like his.
Mr Sands also denied rumours that he suspended his campaign because of FNM Leader Dr Hubert Minnis' leadership style, telling The Tribune he respects both Dr Minnis and leader hopeful Loretta Butler-Turner. He added that he has pledged his allegiance to no one.
Meanwhile a well-placed source in the FNM, who did not want to be named, told The Tribune that Mr Sands allegedly had problems financing his campaign, which was part of the reason for his decision. The source claimed Mr Sands had been promised campaign funding from the party.
"The reasons are very personal and related to family considerations and time commitment. I would not be truthful if I said the issues within the party didn't make my decision that much easier," Mr Sands told The Tribune.
"It is my desire for something to happen within the party. I have respect for both Dr Minnis and Mrs Butler-Turner, who are both capable of running the party and the country. I am not in any camp. It is my view that the decisions made in the party now will be very significant in this country.
"I think both persons have to put their issues aside, lock themselves up in a room and stay in there until they find a solution. My reasons may be personal at this time but I believe this will not be the last of this kind of announcement that you will hear."
Mr Sands said he believes that a "lack of appreciation" is causing a divide within the FNM. "This is why a lot of persons are unhappy. Persons want to be appreciated," Mr Sands said.
"The appreciation will lead to togetherness and that will be the solution. We need to come together, the entire grouping of persons, in order to rescue this nation. We need to figure out the best way to go forward."
In his statement, Mr Sands said it is his sincere hope that the FNM "recognises the magnitude of the time we are in" adding that the decision to suspect his campaign was difficult.
"There are undoubtedly times in every individual's life when difficult decisions will have to be made. In the past few weeks a lot has transpired within the FNM which has resulted in much debate in and around the country," the statement said.
"However, I've made the conscious decision to suspend my campaign in the Bain and Grants Town constituency at this time. Subsequently, I would like to thank the executive committee of the FNM Bain and Grant's Town Association, party leader Dr Hubert Minnis, and the candidate selection committee in confirming my candidacy.
"In conclusion, it is my sincere hope and prayer that the FNM truly recognises the magnitude of the time we're in. As we head into our national convention I hope all FNMs and delegates realise that history has always showed us that there are some battles which are so significant, the possible outcome so frightening that it may require enemies of sorts to unite to ensure a victory against a common foe."
Last night, FNM Chairman Sidney Collie released a statement on the issue, thanking Mr Sands for his work with the party so far.
"On Sunday, July 10, I received a letter from Mr Leonard Sands that he would be suspending his campaign for the Bain and Grant's Town constituency for personal family reasons," Mr Collie said. "I would like to thank Mr Sands for his many years of service, work, and commitment to the FNM and the Bahamas. I appreciate his willingness to come forward to be part of the electoral process but we understand that public service is a commitment - and we also understand family always comes first."
Last September, the FNM announced that Mr Sands, an architect, had joined the party.
In a press release at the time, Mr Sands said: "I am proud to join this organisation because I am convinced that the Free National Movement is the only party that is capable of moving the Bahamian people from promise to possession."