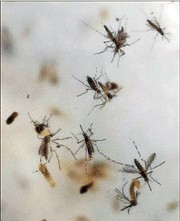 AN EFFORT to reduce mosquitoes and prevent the spread of viruses such as Zika in the Cayman Islands by releasing genetically altered mosquitoes is to start this week, officials in the British Caribbean territory have announced.
Mosquito abatement authorities in the Cayman Islands and British biotech company Oxitec had planned to release the genetically modified organism (GMO) insects last month. But the project was put off by a delay in getting an occupancy permit for the laboratory in which mosquitoes are bred.
The release of the mosquitoes will begin tomorrow on 300 acres in the West Bay area of Grand Cayman, according to a government statement.
The plan calls for the release of millions of modified male mosquitoes of the Aedes aegypti species.
The males do not bite, but they will mate with females and produce offspring that die before reaching adulthood.
Aedes aegypti are not native to the Cayman Islands and spread Zika, dengue and yellow fever.
There has been one confirmed, imported case of Zika in the territory. GMO mosquitoes have been released in Brazil seeking to halt
the spread of disease there as the country preapres to host the Olympic Games.
Oxitec and officials in the Florida Keys have proposed testing there as well and are awaiting US regulatory approval.