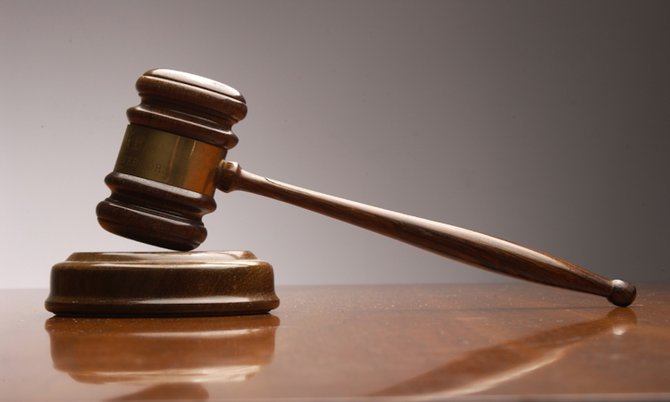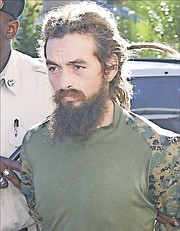 By LAMECH JOHNSON
Tribune Staff Reporter
ljohnson@tribunemedia.net
A FORMER US marine was sentenced to 15 years in prison yesterday for attempted murder notwithstanding his mother's letter to the judge pleading for leniency for a son she said had "always shown loving kindness towards others and never judged people no matter their circumstance."
Heath John Henry, 30, reappeared before Justice Bernard Turner nearly a week after it was revealed that the convict's mother, Gail Henry, forwarded a letter to the judge by way of his court clerk "humbly and respectfully" asking the court for mercy on sentencing concerning the shooting of Jonathan Rahming on December 30, 2014 at Current Island, Eleuthera.
Henry's lawyer Christina Galanos and prosecutor Eucal Bonaby denied knowledge of the letter, which the judge had deemed "inappropriate."
Henry's mother was ordered to return to court to resolve the matter.
She was absent for the court's decision yesterday, which saw Henry receive more than the five to 10 years his lawyer had asked for during submissions heard by the judge on June 22.
The prosecution had recommended 15 years to life imprisonment.
Justice Turner, after informing the convict of his sentence and right to appeal conviction, said his mother's action had no bearing on the court' decision to impose the sentence it did.
"You were not penalised with respect to that just so that is clear," the judge stressed to Henry.
"I note that the person who sent that letter is not present. Upon consideration of the motivation behind such a thing, the court will not take any action with respect to the letter writer but she is to be advised that it is not acceptable and that she should consider herself fortunate that no further action has been taken. She could very well have been joining her son at a certain facility for a few nights," the judge added.
Mr Bonaby took issue with the court's position on her absence, however, stating that it was an obvious display of disrespect given that she was present in court when ordered to return.
"She should be made to appear and apologise," the prosecutor stressed.
The judge acknowledged the points raised on both issues but said his position would remain the same in consideration of the circumstances.
Ms Galanos said she received information that Gail Henry's absence was due to inability to afford a return ticket to New Providence for the hearing.
John Henry, who has American and Bahamian citizenship, was convicted in March by a majority verdict of 8-1 concerning the shooting incident 18 months ago.
A police search team found Henry hiding under a Ghillie blanket - a type of camouflage - on a cliff on Current Island on January 2, 2015. He allegedly told police that Rahming charged at him while wielding a cutlass and he shot him in self-defence. When asked for the location of the gun, Henry said that he had thrown it in a swamp.
He elected to remain silent at trial and called no witnesses in his defence.
The letter addressed to Justice Turner, a copy of which was obtained by The Tribune, had an apparent signature of Gail Henry affixed to the conclusion of the document.
"All of his life my son has always shown loving kindness toward others and never judges people no matter their circumstance," the letter said.
"He has volunteered with junior youth empowerment groups in the Bahamas since 2009 teaching them to make a positive difference in their communities and also teaching them the value of having God in their lives. He has volunteered in Englerston, Blue Hill South, Yellow Elder Gardens and Joe Farrington Road.
"While incarcerated, he has continued to work with inmates sharing with them how to make a positive difference within their communities. He has spent hours everyday while incarcerated teaching the Bible to whoever is interested. I know that once he is released, he will continue to teach youth groups in The Bahamas," the convict's mother wrote.
"He has never shown any signs of violence in his past toward anyone and what he is accused of doing goes against his moral character. Please I beg of you, Your Honour, to show mercy and leniency when sentencing my son today!"
Justice Turner, in giving his ruling on sentencing yesterday, said he had considered the favourable probation report and character witness testimonies as well as the relative youth of the convict.
"But I also have to impose a sentence sufficient to express society's intolerance and abhorrence for violent and criminal activity, in particular criminal activity involving the use of a firearm," the judge stressed.
"This matter is one in which a firearm was used. It is one in which it was fired twice. Had both shots missed the virtual complainant, it still would have been an offence of attempted murder. It is a given that the difference between attempted murder and murder is nothing other than the outcome. The intent is to kill."
The judge recalled evidence that John Henry tried to evade arrest and was only caught by police when they detected movement in the area in which he had camouflaged himself.
"This matter is a somewhat inexplicable incident as the attempt on the life of Jonathan Rahming, by a person who he considered something of a friend, other than a previous incident according to the evidence, came entirely out of the blue. The only explanation for which he was, according to John Henry, the convict's reference to Jonathan Rahming having beat him up some eight years earlier."
The incident eight years prior to the shooting at Current Island concerned John Henry's alleged attempted theft of Rahming's billy goat where the victim reportedly struck Henry before turning him over to his guardians.
Henry was sentenced to 15 years imprisonment from the date of conviction, March 23, 2016.
He was told that if he maintains good behaviour at the Department of Correctional Services during his incarceration, authorities at the prison may release him after having served two thirds - 10 years - of his sentence.