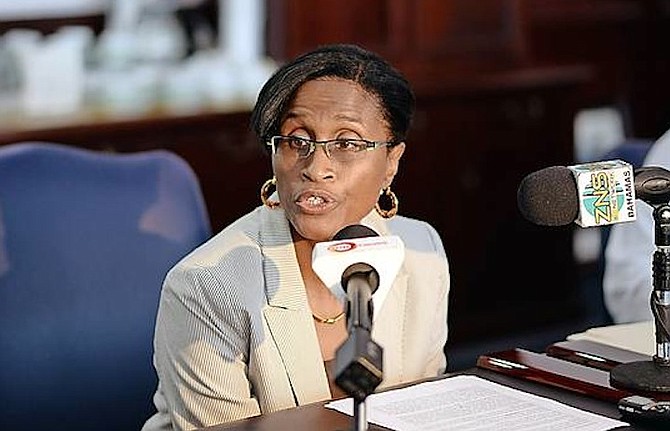 By SANCHESKA BROWN
Tribune Staff Reporter
sbrown@tribunemedia.net
A LACK of proper maintenance as well as extreme heat has put immense pressure on Bahamas Power and Light's (BPL) aging generators, with officials saying the electricity outages that have affected New Providence residents for the past few weeks are nowhere near over.
BPL CEO Pam Hill acknowledged yesterday that power cuts this year have been more frequent than last year, but said BPL is looking to bring in additional rental generators later this summer to help with reliability.
BPL has been load shedding intermittently for the past two weeks but there had been numerous power cuts before that as the electricity provider continues to "struggle" with a significant generation shortfall.
"We expect that the power should be in equilibrium, meaning that we have got enough today in order to manage through the demand but even here you hear me talking in a way that lets you know this is not the last of it," Ms Hill said at a press conference at the company's head office.
"Honestly, I can say that and the reason why is because historically we know over the last several years, the generation of BEC has really had some challenges.
"There have been issues in terms of (equipment) maintenance, in terms of their ability to be taken offline in way that allows it to be looked after and cared for and that historically is something we see every year in the summer and yet here we are again. This year, we are see it happening even faster than it did last year. Here we are in the early part of summer but what is different is the heat of the summer ... this time last year, the temperature wasn't that bad.
"It is unexpectedly hot and we are seeing that add stress on the generators and it makes it harder to operate the fleet when you have these kinds of heat. And naturally people will be more inclined to turn on their air conditioning and keep it on longer."
Ms Hill said in the short-term BPL has ordered additional rental generators and in the long term, the company is looking at the viability of solar power.
"We are also looking to bring online some generators that recently went offline and bring repairs to it and bring it back online next week. If we don't see any major challenges or temperature surges or things beyond our control we should be okay. I expect this week to look a little better than last week; with that said we are still in a tentative state but it seems as though things should be okay for now," Ms Hill.
"Beyond today, we expect to bring on a plant that has been offline and that should help improve things and then pushing out further than that but still in the short-term we will bring on additional generation. So that means we will have additional capacity and that really should help the reliability."
In terms of alternative sources of energy, Ms Hill said solar will be the first focus but said BPL will be "evaluating all types of fossil fuel to determines what makes sense for the country".
When asked how he felt about BPL's problems yesterday, Minister of Works Philip "Brave" Davis said: "Be patient, we have a solution very soon, I am just as angry."
This failure to keep the lights on comes months after American company PowerSecure was contracted to take over management at the government-owned utility provider. The new management deal was touted by the government as being the answer to sub-par electricity service and high electricity bills.
BPL's load shedding also comes after meteorologists warned residents last week to expect scorching temperatures with the heat index expected to reach 104 degrees Fahrenheit.
Daily temperatures over the past week have been in the high 90s.