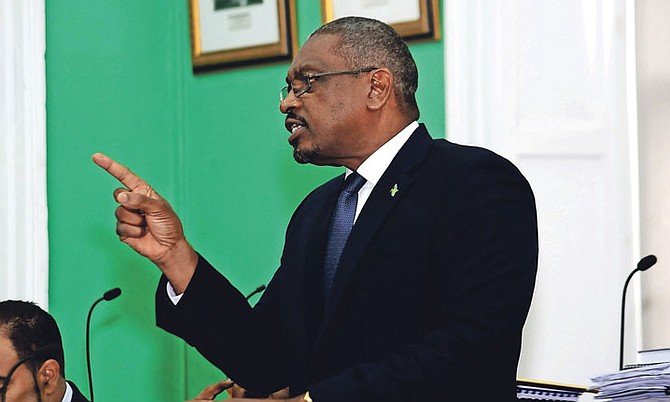 By LAMECH JOHNSON
Tribune Staff Reporter
ljohnson@tribunemedia.net
FREE National Movement Leader Dr Hubert Minnis promised Grand Bahamians an improved economy, job opportunities and easier access to Crown land under an administration with him at the helm.
Addressing hundreds of supporters at the FNM's headquarters in Freeport for his re-election campaign, the Killarney MP laid out a case for why a new FNM government under his leadership would be better for them and the rest of the country.
The rally in the nation's second city occurred just ten days after he and rival Long Island MP Loretta Butler-Turner launched their respective leadership campaigns in the capital.
"We watched as communities in Grand Bahama became the breeding grounds for criminality, unacceptable social behaviour and limited economic activity," Dr Minnis said on Saturday.
"My brothers and sisters, Grand Bahama has the potential to be a major tourism, maritime and industrial centre and we shall neglect it no more. The level of potential that exists here is unlimited. As we create the environment to unleash that potential, the effects will be clear and widely felt."
"Grand Bahama, under my leadership, the FNM will work closely with the Grand Bahama Port Authority to ensure they fulfil every commitment under the Hawksbill Creek Agreement."
He also said a government led by him would work with officials to ensure the cost of electricity is reduced by making full use of renewable energy and ensuring the Grand Bahama Power Company is regulated by the Utilities Regulation and Competition Authority.
Dr Minnis also promised to move away from Nassau-centric policies and "ensure that Grand Bahama fully participates in the governance and future of the Bahamas."
Grand Bahamians were also told that his FNM government would "create a true one-stop shop for investors to ensure that job opportunities are created in the shortest possible time, empower Bahamian entrepreneurs and businessmen by providing necessary concessions to stimulate growth and provide land reform to assist settlements outside of Freeport to fully own and utilise generation land and commonage property."
"We will provide incentives to Bahamian businesses who return to the Family Islands, including Grand Bahama especially the settlements outside of the Freeport area," Dr Minnis said. "Crown land will be made available to Bahamians at concessional rates to create employment as part of our Return to the Islands Initiative."
Dr Minnis also promised to eliminate value added tax (VAT) on a number of areas, including breadbasket items, education, medication, doctor's fees, health insurance, electricity and water.
"We will bring relief to the people who need it the most," he said.
The FNM's July 27-29 convention and subsequent leadership battle comes at a delicate time for the party.
The FNM's Central Council voted to have a July convention after six parliamentarians, including Mrs Butler-Turner, threatened to seek Dr Minnis' removal as leader of the Official Opposition in the House of Assembly.
Dr Minnis' tenure as leader has been defined by intra-party friction, creating fractures in the party.
However, when challenged in 2014, he handily defeated Mrs Butler-Turner.
Dr Minnis on Saturday told supporters that his leadership represents a "new vision" for the Bahamas but also emphasised that this could only come to fruition if the party is unified.
"FNMS, we must come together," he told the crowd. "I know like all families we have differences but must get together and take the fight to the PLP and we cannot lose focus on the real issues we face day in and day out."
"I am still convinced that, if we speak with one voice, if we all move with one purpose and if we follow one vision, no one can defeat us."
The FNM leader also pledged to implement a code of conduct for senior public officials and parliamentarians with sanctions for breaches as well as to make the Public Disclosure Commission independent and update their legislation and powers. He said he would also mandate that the auditor general be given the power to report fraudulent activity to the appropriate authorities to reduce instances of fraud and theft similar to what transpired at the Post Office, Department of Social Services and the Road Traffic Department.
Dr Minnis also promised laws to protect whistle blowers who expose corruption.
"We will introduce the most aggressive anti-corruption changes ever made in our Bahamas. We will not only wipe out the PLP but we will wipe out the entire PLP corrupt culture," he said.