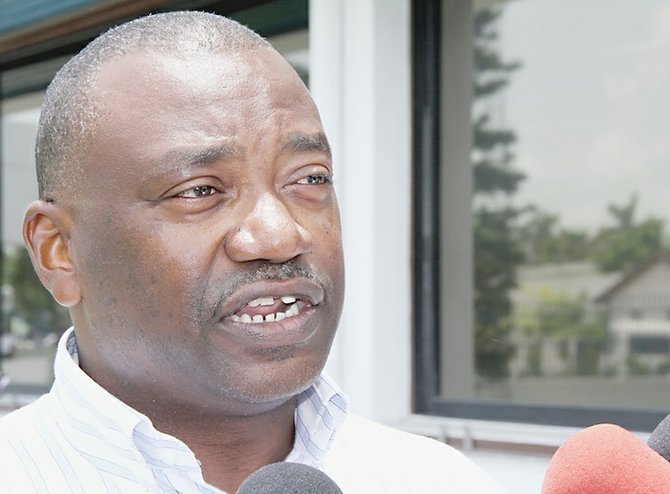 By LAMECH JOHNSON
Tribune Staff Reporter
ljohnson@tribunemedia.net
CUSTOMERS will continue to suffer power outages if Bahamas Power and Light does not get $200m to turn it into an efficient power-generation entity, a former Cabinet minister told The Tribune yesterday.
Disgruntled residents across New Providence continued to endure load shedding on the weekend that BPL had previously attributed to lack of proper maintenance as well as extreme heat that put immense pressure on its aging generators.
BPL has been load shedding intermittently for the past two weeks but there have been numerous power cuts before that as the electricity provider continues to struggle with a significant generation shortfall.
Former State Minister for Environment Phenton Neymour said the issue is less about BPL, formerly the Bahamas Electricity Corporation (BEC), and more about the government.
"This management company only exists to take the blows for the government concerning the failings at BEC and nothing else," Mr Neymour suggested.
"I predict that immediately after the general election, if the PLP were to retain the government – and I highly doubt this will occur – there will be immediate hikes in electricity bills and staff layoffs. They're waiting for the election to pass before doing this. It is clear that the government doesn't know what to do with BPL. I'd said it years ago when it was first announced that a management company was being brought in that this option was a Band-Aid measure."
"All Bahamians have to understand that for BPL to turn BEC around requires a significant amount of money, time to improve and diligence in that endeavour without political interference. It is the latter which has BPL/BEC in the situation that it finds itself in now."
Mr Neymour claimed that the previous Ingraham administration had a proposal to purchase the necessary generators that would power the island without problems.
Following the 2012 election, he said, the current government cancelled the remaining two of three purchases for generations and opted to rent generators notwithstanding their criticism of the previous government opting to do the same.
He said this action resulted in the shortfall in New Providence's power supply as Clifton Pier, already hampered by poor maintenance, does not have the 40 to 60 megawatts it needs to function effectively.
This comes months after American company PowerSecure was contracted to take over management at the government-owned utility provider. The new management deal was touted by the government as being the answer to sub-par electricity service and high electricity bills.
However, sub-par electricity service has not changed and residents with bills as low as $300 continue to be disconnected.
Deputy Prime Minister Phillip "Brave" Davis had announced in June that the government is working on a series of operational agreements with BPL with hopes of getting the corporation to forgive the debts of consumers who have been unable to settle balances for prolonged periods of time.
However, BPL executives said last week that the utility provider is currently "not in any talks" with the government to forgive or write off any of its numerous delinquent accounts and encouraged customers to continue to pay their bills on time in order to remain connected.
In 2013, then BEC Chairman Leslie Miller revealed that 90 per cent of BEC's 65,000 residential customers were more than 90 days past due – with approximately $26 million in arrears.
Mr Neymour yesterday said even if the government collected all of its outstanding payment from customers, this would not be sufficient to turn the company around.
"Even if BPL were to recover all of its revenue from delinquent customers with outstanding electricity bills, it will only be enough to keep them running for the moment but that alone is insignificant funds to provide assets, generators, and repair work needed for an efficient 21st century utility provider."
"Just to turn BPL/BEC around into an efficient company would require at least $200 million and that would have to come from government," he suggested.
Without this investment, Mr Neymour said: "It's only going to get worse for BPL."
On Sunday, BPL began load shedding for what the company said would be one-hour intervals in various areas across New Providence. Power outages were also reported on Saturday.