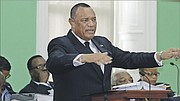 By RASHAD ROLLE
Tribune Staff Reporter
rrolle@tribunemedia.net
AS Bahamians rage over power cuts during this hot summer, Prime Minister Perry Christie admitted yesterday that the management of Bahamas Power & Light failed to adequately anticipate the challenge of generating electricity during the summer months and prepare for it.
He made his comments during an appearance on the "Ed Fields Live" show on Kiss FM yesterday evening.
"The difficulty is that I thought we had anticipated, that is the management of BEC and the management going forward, that we were going to have a bad summer and I knew that we had to have at least 40 megawatts in addition to what we have now - they were ordered late," Mr Christie said.

"The fact is (that the management is) anticipating relief by a certain date that they can give. And the relief would be where you add to the capacity as it exists now; the 40 megawatts that they say should be able to balance out the challenges that we have."
Mr Christie was referring to temporary generators that the company has ordered to assist with power generation for the summer.
Former Bahamas Electricity Corporation (BEC) Chairman Leslie Miller has said that the former board of the corporation planned to provide steady electricity generation this summer by refurbishing the Clifton Pier plant, providing greater maintenance to the plant's old generators.
Mr Miller has criticised Mr Christie's Cabinet for not signing-off on the plan.
Mr Christie, however, seemed to suggest his plan wasn't feasible in light of the transition the government was overseeing involving BPL.
Mr Christie said: "It's all well and good to say you are going to fix the machines you have and the machines are going to work efficiently and so forth but it's another expense in the transition of PowerSecure to BPL to new management to recruiting new management, all of that in transition this thing (would've had to take) place."
Of the incoming generators, he said: "This is me saying now, that looking at what has happened, we could have ordered and should have ordered these things a few months before we did. The fact of the matter is they weren't ordered. They're now in progress. And (the management of BPL) are trying to get the extra power here."
Mr Christie said BPL has paid for the generators with help from the government.
"They're funded by Bahamas Power & Light but again backed up by the Ministry of Finance," he said. "We've always indicated that we're prepared to assist in the transition going forward. There's no question about that."
Frequent power outages this summer have angered Bahamians, some of whom complain not only of having to deal with record heat without reliable electricity, but of having appliances destroyed as well because of the unpredictable power outages.
Some business owners have also complained about the affect of power outages on their business.
Nonetheless, Mr Christie did not second-guess his government's decision to hire PowerSecure to manage BPL.
He said, for instance, that the company offers much in terms of the development of renewable energy services.
"We would be able to take advantage of their expertise in that regard," he said. "And so both here and in the Family Islands we expect a tremendous movement forward once everybody is settled and in place and we have power going on to be able to introduce new methods like solar and other methodologies."
Mr Christie also said his government is not interfering with BPL, noting this was an important element of the agreement struck with PowerSecure.
His statement is unlikely to persuade critics, many of whom pointed to his Cabinet's decision to deny BPL its request to raise rates to fund personnel and equipment upgrades as an example of potentially harmful government interference.