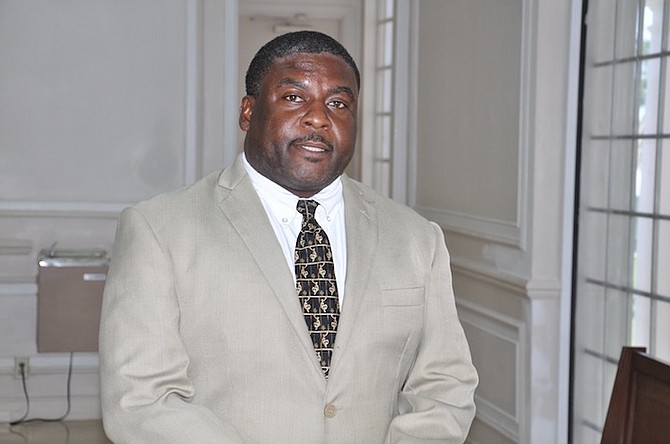 By DENISE MAYCOCK
Tribune Freeport Reporter
dmaycock@tribunemedia.net
DR Gerald Forbes told a Supreme Court that he and a woman who has alleged that he raped her were involved in an intimate sexual relationship and that she allegedly inserted abortion tablets into her vagina after becoming pregnant, possibly with his child.
Forbes, who is on trial for rape and indecently assaulting a 20-year-old woman, testified under oath that he and the virtual complainant drank rum, smoked some marijuana, and had sex at his home on February 3, 2015.
It is alleged that on February 3, 2015, the 46-year-old doctor rubbed the woman's vagina and masturbated during an exam, and on March 2, it is alleged that he had sex with the woman without her consent while performing a medical abortion procedure at his clinic in the Pioneers Professional Plaza.
Dr Forbes denies the charges. During his testimony, he claimed that he and the virtual complainant had sex on several occasions after their first sexual encounter, and had also gone out together drinking at bars.
According to Forbes, he met the woman on January 24, 2015 after a close friend referred her to him for employment at his Carico Medical Clinic in Freeport. She was an unemployed mother of a seven-month-old child at the time.
He instructed her to bring a resumé and any family members who lived with her to the clinic so he could go over a confidentiality clause and explain the importance of patient confidentiality. The virtual complainant brought her boyfriend whom she was living with at the time.
Dr Forbes said she was excited about coming to work at the clinic. However, he claimed that she was depressed over her lack of money, and sad that her boyfriend was unemployed.
"My heart went out to her because we were very close and we spent the first two weeks during her employment getting to know each other. We went drinking at bars in the daytime because business was slow," he told the court.

Dr Forbes said he would buy the complainant lunch and would sometimes take her to pick up her son in his car.
"Would you spend time together outside of work hours?" asked his attorney Osman Johnson.
Dr Forbes replied that they did. On February 3, he claimed that he and the complainant went to Coral Road Bar where they had drinks. After leaving the bar, they got some marijuana and went back to his apartment and smoked it.
"She taught me a new trick with the Coke can; We did not have anything to wrap (the marijuana) in so she folded the Coke can and put the marijuana in the middle and inhaled it through the can so you could get high," he explained.



Dr Forbes said he had three Guinness drinks and she had four or five Steel Reserves. They went into his bedroom and as they were laying in his bed smoking, he asked the complainant if she was still breastfeeding to which she replied "yes."

"I asked her if I could see her breast which was producing the milk… we took her bra off and we kissed, fondled each other, and we had consensual sex," he claimed.
Mr Johnson asked, "Did she say no or stop at anytime?
"No," replied Dr Forbes.
On the night of February 13, he said the virtual complainant invited him to a bar where she was working as a waitress and bought him two Guinness drinks. He said sometime around 2am when he was getting ready to leave, the complainant told him she needed a ride home, but he told her he could not hang around until 4am when she got off.
The following morning he said the virtual complainant did not show up for work and called to say that she was tired and could not make it.
Dr Forbes said on February 19 he had to go to Nassau because his sister had died, and prior to leaving he saw the woman. He said he knew she was pregnant because of his 20 years of experience as a medical doctor.
"I looked in her eyes and told her she was pregnant," he told the court. He estimated that he probably had 10 sexual encounters with her between February 3 and 19 when he went to Nassau.
Dr Forbes claimed that he remained in Nassau for two weeks because he also had a medical clinic at Carmichael Road. He claimed that they were involved in a discrete relationship and she would call him three or four times a day on WhatsApp.
He claimed that the complainant told him she had a lot of responsibilities taking care of her son and wanted to terminate her pregnancy.

"I told her it would be a cold day in hell that I will kill an unborn child," he said. "She takes it upon herself and inserted tablets in her own vagina to terminate the pregnancy. She calls me on February 28 and says she is not keeping this child. I told her on the phone that she's fired."
He claimed that when he returned to Freeport on March 2, Ms Matthews, another employee at his clinic, picked him up from the airport. They went to the clinic and unlocked the bars on the doors, but the clinic was not open for business and he did not see any patients that day.
He claims that he could not have raped the complainant at his clinic because it was not open on the day in question.
The doctor also claimed that he saw the complainant on several other occasions between March 2 (the day of the alleged rape) and March 16 when he was arrested at his clinic.
Dr Forbes said he was in the middle of seeing a patient when the complainant inquired about $100 owed to her. He told her he owed her nothing.
He said he later sent an officer to drop the money off to her at home, but she was not there. An hour later, he said plain-clothed officers came to his clinic and picked him up. He was taken to Central Police Station and arrested for rape.
During a police interview, Dr Forbes said he was instructed by his attorney Cassietta McIntosh to tell the police that he had nothing to say when questioned.
Dr Forbes said that the package of Methotrexate the police showed him during the interview is used for the treatment of cancer and also used in abortions. He said he never administered the medicine, but had written a prescription for Methotrexate.
Dr Forbes got very emotional on the stand and said that he was unable to save the baby because he was locked up for three months and the judge called a 15-minute break.
"Why did you take an interest in the virtual complainant's pregnancy?" asked Mr Johnson.
"We had a sexual encounter on February 3, I was aware of the pregnancy and there was a possibility the child could be mine," he said.
He said that the prescription he had given the virtual complainant in his office was progesterone, which is used to preserve pregnancy.
Dr Forbes said he provided two alibis to the police of persons whom he was with on March 2, the date in question.
The trial resumes on Tuesday. Justice Estelle Gray Evans is presiding over the matter. Erica Kemp of the Attorney General's Office is the prosecutor.