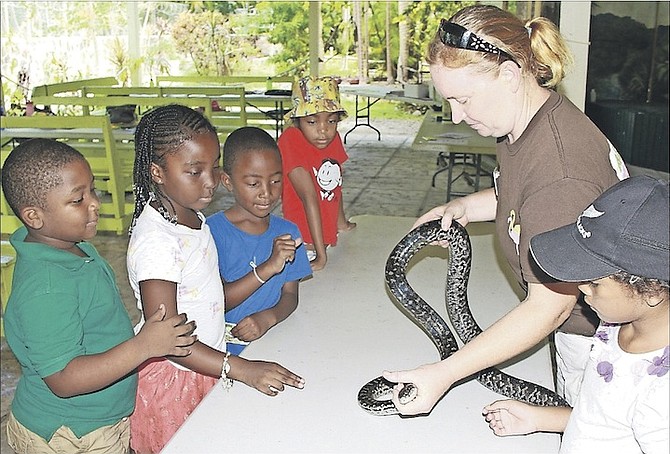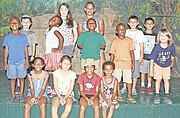 By AARON MILLER
YOUNG summer campers at Ardastra met Daisy the Bahamian Boa Constrictor - all five feet of her - yesterday as the Gardens, Zoo and Conservation Centre opened its second week of holiday programmes for children.
Some 14 campers were introduced to the well known snake and learned from her handler a number of interesting facts about Daisy while having the chance to interact closely with her.
Six-year-old Dylan Bethel, a student at Queen's College said that he had an "amazing and fabulous" time at his first day of Zoo Camp. "My favourite part of today was petting the pigs and meeting the snake, Daisy. We got to touch her and she was scaly and soft. I was not scared to touch her at all. I like animals and I was not afraid. I can't wait to go back tomorrow. I got a backpack and a water bottle too."
This week is devoted to teaching the children about pollution and challenging them to come up with solutions to the problem. Air, water, soil, solid waste, hazardous waste and noise pollution are some of the topics to be addressed during 'Pollution Solution' week.
The camp offers the youngsters a morning activity, an introductory game, a tour of the zoo, the flamingo show, animal encounters, a team game, a presentation on the importance of "reducing, reusing and recycling'', petting zoo activities, arts and crafts and journal writing plus snacks and lunch.
Earlier this month Ardastra held a 'Hands-On Nature' week to start its summer Zoo Camp. The children begun by learning the importance of water, preventing water pollution and also different ways of trying to preserve water. On the second day the older campers learned in more depth about the oceans and enjoyed the experience of snorkelling with the Bahamas Reef Environmental Educational Foundation team while the younger one made toys in arts and crafts and visited the nearby Bahamas Humane Society. And for two days the campers were taught the significance of each animal's lifecycle and how each adapts to its environment before finishing with a water-based day given the heat.