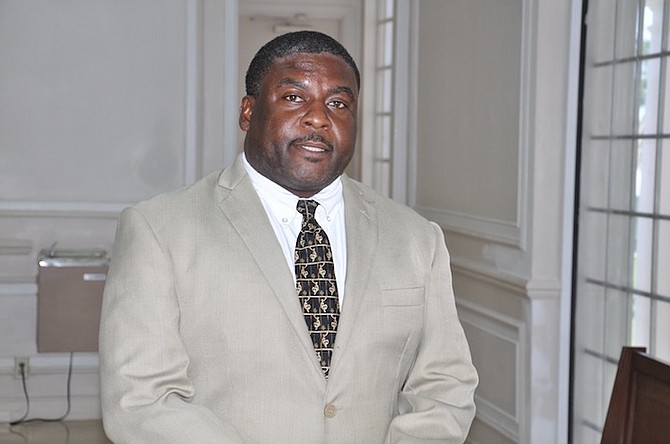 By DENISE MAYCOCK
Tribune Freeport Reporter
dmaycock@tribunemedia.net
DR GERALD Forbes insisted that he does not perform abortions at his Grand Bahama clinic because it is against his religious beliefs as a Catholic and has denied writing a prescription for abortion tablets, the Supreme Court heard yesterday.
The 46-year-old doctor is accused of raping a 20-year-old woman while performing an abortion procedure at his Carico Medical Clinic in Freeport on March 2, 2015. He is also accused of indecently assaulting the woman a month earlier on February 3.
During cross examination, Dr Forbes was shown a copy of a prescription label from LMR Drugs Co Ltd for the medication Methrotrexate with the name Dr Gerald Forbes on it and the complainant's name as the patient.
He claimed that although the label dated March 6 has his name on it, the complainant was employed at his clinic and had access to his prescription pads.
"Did you agree to terminate the complainant's pregnancy for $200?" prosecutor Erica Kemp asked.
Dr Forbes said no. He said he tried to prevent it by giving the complainant progesterone when she started spotting blood. He claimed that the complainant tried to terminate her own pregnancy by inserting abortion pills into her vagina.
When asked by prosecutor Kemp what Methotrexate is used for, Dr Forbes said it is used to treat cancer by destroying cancer cells and preventing them from replicating.
"Can Methotrexate be used in medical abortion?" she questioned. He said yes and explained that just as the drug prevents cancer cells from replicating, it has the same effect on replicating cells of a newborn baby.
The prosecutor suggested that Dr Forbes had given the Methotrexate to the complainant during an exam on February 3.
She asked Dr Forbes when the complainant started her employment at the clinic. He said that the she was employed on January 31 and that, as a new employee, she was required to bring a medical certificate but never presented one.
The prosecutor suggested that Dr Forbes had told the complainant that he could perform the physical examination for her and she agreed because she did not want to lose her job. He denied the suggestion.

"You agreed to perform the physical exam in February and, while the complainant was naked on your exam table with her legs in the stirrups, you intentionally touched her vagina. You unzipped your pants and took your penis in your hands and masturbated."
"No Ma'm," the doctor replied.

Prosecutor Kemp told Dr Forbes that the complainant got up and went to the bathroom. "You knocked on the door and when she opened it you told her to touch you because you just want to bust; that you are an old man and it does not take much for you to bust," she suggested.
Dr Forbes denied the assertion and said the accused concocted the story of being indecently assaulted and raped, putting a negative light on his medical clinic which he had worked to establish over the past 20 years.
The trial continues today.