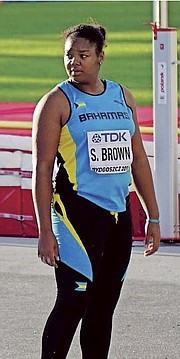 By BRENT STUBBS
Senior Sports Reporter
bstubbs@tribunemedia.net
The Bahamas' 14-member team at the IAAF World Under-20 Championships got started yesterday in Bydgoszcz, Poland, with Serena Brown qualifying for the women's discus final with a new junior national record.
Brown, one of two athletes in action on day one of the championships at the Zawisza Stadium, had the fifth best performance in Group B and was eighth overall with her heave of 50.94 metres or 167-feet, 1-inch.
In the process, she not only lowered her own national record of 48.39m (158-9), but she became the first Bahamian female competitor to advance to a final in a field event at the championships.
Group B, by the way, had the three best qualifying performances, led by Germany's Julia Ritter with a personal best of 53.84m (176-7).
She was followed by American Elena Bruckner with 53.83m (176-7) and Alexandra Emilianov with 53.19m (174-6). They were only three of the six competitors who surpassed the automatic qualifying mark of 51.50m (168-11).
Brown's record-breaking feat came on her third and final attempt in the qualifying round and enabled her to join five other qualifiers who got in by posting the best performances to complete the final field of 12 competitors. The final is set for Thursday when Brown will be the 11th out of 12 competitors in action.
On the track, Shaquania Dorsett advanced in the 17th spot out of a total of 25 who moved onto the semi-final. Running out of lane two in the first six heats, Dorsett ran 54.55 seconds to clinch her berth.
Jamaica's Tiffany James has the fastest qualifying time of 52.98 out of heat four, while Maureen Nyatichi Thomas from Kenya had the second fastest time of 53.04 in winning Dorsett's heat.
Dorsett drew lane two again as she runs out of the second of three heats today. She will need to at least take one of two top spots or run one of the next two fastest times to secure a berth in the final.
"I think this is an excellent start for the team," said BAAA public relations officer Philip Gray. "I think it's indicative of what we can expect from the team going forth. We are very pleased that both Shaquania Dorsett and Serena Brown made it to the semi-final and final respectively and we look forward to better performances from them."
Also in today's early session, the Bahamas will have two competitors entered in the men's 110m hurdles qualifying round. Shakeem Hall-Smith, with a PB and SB of 14.12, will be in lane nine in heat five and Tavonte Mott, with a PB and SB of 13.81, will run out of lane four in the sixth heat.
They will both have to take one of the top three spots or turn in one of the next three fastest times in order to advance to the semi-final that evening.
Holland Martin will be the lone representative in the men's triple jump qualifying round. He will be the 13th out of 19 competitors in Group A with a PB and SB of 15.68m (51-5 ½).
Another 19 will contest Group B.
The automatic qualifying mark for the final is 16.10m (52-10) or the 12 best performances.
Two competitors will also suit up in the men's 400m heats. Kinard Rolle, with a PR and SB of 46.88, will run put of lane three in heat three and Henri Delauze, with his PR and SB of 46.43, will be in lane eight in heat four.
The first three in each heat and the next six fastest times will qualify for the semifinal.
And Devine Parker, with her PB and SB of 11.77, will carry the Bahamian flag in the women's 100m heats. She will compete in lane four in heat two. The first three in each heat and the next six fastest times will qualify for the semifinal on Thursday.
There are no competitors entered in the men's 100m, which has gone straight to the semifinal.
"We expect a number of persons to make personal best performances on this trip and we are looking to see how many medals we can capture," said Gray, who accompanyinig the team in Poland.