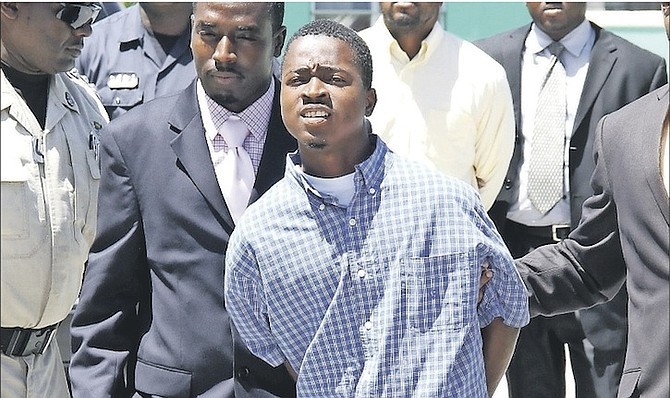 By LAMECH JOHNSON
Tribune Staff Reporter
ljohnson@tribunemedia.net
A JURY yesterday listened to nearly two hours of closing arguments from Crown and defence counsel on whether two accused men were the shooters or at least played a role in the drive-by shooting of a man at a funeral repast.
The 12-member jury has been listening to evidence for the past month concerning Garvin Pratt, 21, and Eduardo Carey, 36, who are on trial before Justice Bernard Turner in connection with the shooting death of Delano Brice.
Brice, 29, was shot during a drive-by shooting at Quakoo Street where a repast was held on August 23, 2014. He died in hospital four days later.
Pratt and Carey pleaded not guilty to the murder charge they face when they were formally arraigned in the Supreme Court on January 16, 2015.
Pratt's lawyer, Romona Farquharson-Seymour, invited the jury to acquit her client of murder. The lawyer said there is no contention that Delano Brice was murdered in an apparent drive-by shooting.
However, she said the dispute concerned the culprit(s) and whether a person's presence at the scene meant they had a role in the killing.
"Based on his statement, Garvin Pratt was in a vehicle, merely there. A 'Carson', another occupant of the car, shot at a man in the road who was later identified as Delano Brice. We're saying to you, he did not know about any planned shooting. He was merely there.
"But the Crown wants you to believe he was involved, being concerned together based on the charge," the lawyer said.
Mrs Farquharson-Seymour said the jury heard the evidence of anonymous witness "Bravo" who they were unable to see and therefore unable to assess his demeanour.
"You have to treat that evidence with care," Pratt's lawyer said.
"The anonymous witness said they knew my client but I could only go so far in cross-examination because I don't know who they are to verify whether or not that is the truth. And on September 10, 2014, this witness gave a statement to police about what he saw and did. However, what he stated on that screen during testimony took us by surprise because it was not in his statement."
"He says (in court) I didn't see the shooting. I heard shots. I saw Garvin Pratt. He's the person I saw with a gun. But I'm asking you, ladies and gentlemen of the jury to reject that. You honestly believe he (Bravo) told police the identity of the shooter and they did not include it in the statement? It doesn't make sense," the lawyer said.
"Also, he's an anonymous witness whose identity we do not know. There's no reason to withhold this information in your possession. What this evidence of 'Bravo' amounts to is an inconsistent statement," the jury was told.
"If my statement is missing out something important and crucial to the incident, I would think that during the two-year period before the matter came to court I would seek to have it included. But he didn't. 'Bravo' explained it away that police were rushing him. Is an hour of giving a statement being rushed? Bear in mind, he's the only witness who claimed to see Garvin Pratt leaning out of this speeding car," Mrs Farquharson-Seymour said.
Pratt's lawyer said the jury also had the statement of witness "Alpha" to consider as that witness had not given testimony in court.
"The statement given to police on August 30, 2014, Alpha saw what took place and stated that Garvin Pratt was not the person(s) involved."
Keran Humes, another prosecution witness, said the same thing, the lawyer further highlighted.
Mrs Farquharson-Seymour also told the jury that they heard from an investigator who said he was able to independently able to corroborate the statement her client gave to police.
"What Garvin Pratt says and what Alpha says are basically the same. Garvin Pratt cooperated with police. Garvin Pratt, in his statement, said what he saw. How would you react if somebody is in your car, in the back seat, pulls out a gun and shoots somebody?" the lawyer said.
She said there is no fingerprint evidence or DNA evidence to connect her client to the killing.
"The only evidence here for you to make a determination is eye witness evidence of 'Bravo', 'Alpha' and the statement of Garvin Pratt himself."
Tonique Lewis, lawyer for Eduardo Carey, said the case brought by the prosecution is confusing.
"What we all agree on is that there is no direct evidence on who shot Delano Brice. However it's a circumstantial case full of confusion," Ms Lewis said.
"'Bravo' said he knew Mr Carey all of his life but said he only saw him once in a blue moon and on the day in question only saw him for one minute because it happened so fast. They hardly ever had a conversation according to him," she added.
Ms Lewis said that her client was wearing an ankle-monitoring bracelet for which a report was produced showing his movements on that day.
"Bravo said he saw Carey after the funeral by Our Lady's School. Our Lady's School is on Deveaux Street and the longest time he's at Deveaux Street, according to the monitor report, is 45 minutes. However, based on that same report, the subject remained in this area," the court heard.
"Later on, Bravo said Carey was seated in the front seat of this vehicle that sped through Quakoo Street. If this case is purely circumstantial, shouldn't the evidence be consistent with your only two witnesses? Bravo says front seat, no gun - Alpha back seat, handgun. It's confusing," Carey's lawyer said.
Ms Lewis asked the jury to bear in mind that the ankle monitor report showed that for the one minute her client was shown on Quakoo Street, he had only been moving at 15 mph.
"The investigator himself said 15mph is practically crawling and not speeding. But yet these witnesses are saying he was in the car that was speeding through Quakoo Street. Time is very important in relation to this because Bravo said this incident occurred between 4.30pm and 4.40pm," the lawyer said.
Ms Lewis said the Crown's case was simply confusing as she pointed other apparent inconsistencies with the prosecution's witnesses.
Anthony Delaney, trial prosecutor, said the case was not confusing at all and asked the jury not to be distracted by the defence counsel's manoeuvring around the evidence.
He said that both men were charged with murder and being concerned together.
"Did they shoot or not shoot? And if they didn't, did they lend assistance in the drive by shooting? All persons involved in this matter, including the accused men themselves agree there was a funeral service," he said. "There was a repast, in fact there was two according to Carey, one at Our Lady's and the other at Quakoo Street. Carey said he was at Deveaux Street for approximately an hour."
"Alpha, who was there, said she heard a conversation where Carey said certain things to the occupants in this car. Then, a car comes through a corner, Quakoo Street where a peaceful repast is being held and then someone is shot. There's no question who ends up wounded. One of the participants, according to Bravo, was Garvin Pratt and, if you accept the evidence of Alpha, another was Carey," the prosecutor said.