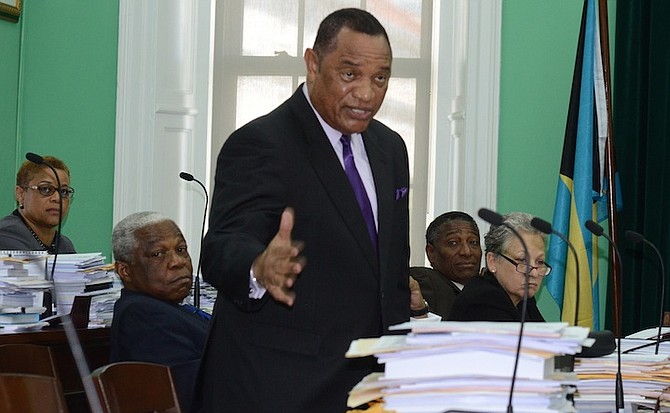 By KHRISNA VIRGIL
Deputy Chief Reporter
kvirgil@tribunemedia.net
PRIME Minister Perry Christie said on Friday that as the country heads into election season, he will be a target for "the hunters" as he gave a vague response to MP Philip Galanis' scorching critique in which he branded the nation's leader "delusional" over his vow to remain leader of the Progressive Liberal Party (PLP).
"I would say that given the season we're in, I'm a subject for the hunters," Mr Christie said while standing to give remarks at the official naming ceremony of the Water and Sewerage Corporation headquarters at Thompson Boulevard.
The building was named in honour of E George Moss, the corporation's first General Manager. 
The ceremony also attracted former Prime Minister Hubert Ingraham, Deputy Prime Minister Philip "Brave" Davis and former National Security Minister Tommy Turnquest.
Continuing his remarks, the Prime Minister said: "So it's so good to see my former colleague Prime Minister walk in on this occasion because I know he wouldn't call me delusional.
"I am almost tempted to suggest to him that he explain to those who here do so, why he himself wouldn't do so because he knows and that's as far as I go."
However, when reporters attempted to press Mr Christie further when the ceremony ended, he did not offer any elaboration.
His response came after Mr Galanis on Wednesday chastised Mr Christie for his assertion that the PLP could become unstable without him at the helm, saying this was the "height of nonsense" and bordered on "delusional".
In a frank interview with The Tribune, Mr Galanis said there are many persons within the party that are capable of bringing a breath of fresh air into the country, ridding it of the "Christie fatigue" it now experiences. Mr Galanis insisted that if it was Mr Christie's desire to remain as Prime Minister, he should just be intellectually honest and say so.
He went on to explain that despite Mr Christie's constant mantra that his team was a "bridge to the future", his declaration on Monday was an admission that he failed to appoint persons who could actually succeed him.
Asked if he believed the party should have an earlier convention, Mr Galanis said the PLP should because the planned November timeline was too late to change leaders and draft a plan to direct the country.
Meanwhile, former PLP Cabinet Minister George Smith was adamant that while no one should underestimate the importance of Mr Christie's role as leader, the organisation is bigger than any one person and would not fall apart should he retire.
Mr Smith said he believes Mr Christie is being encouraged to remain leader of the governing party by some PLPs and members of Parliament who fear without him they will not have the same level of "clout" under new leadership.