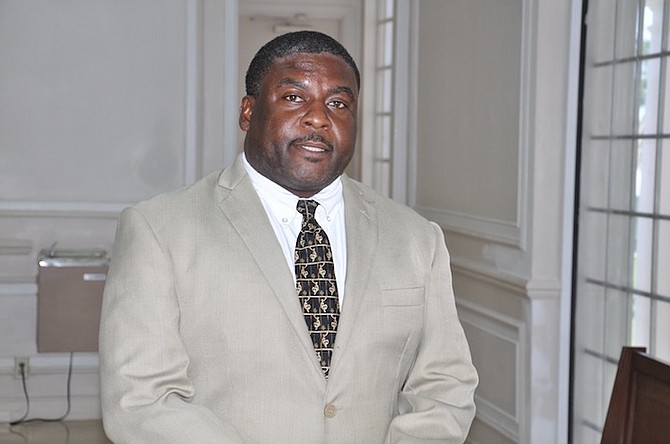 By DENISE MAYCOCK
Tribune Freeport Reporter
dmaycock@tribunemedia.net
A FORMER office manager at Dr Gerald Forbes' clinic testified that the woman who has claimed the doctor allegedly raped her was "flirtatious" with the accused when she worked at his medical clinic.
However, Alonzo Pinder, who says he had been employed for 17 years as the manager at Carico Medical Clinic, was unable to give the woman's name when he was asked by the prosecutor.
He was one of two witnesses called by the accused's lawyer on Thursday to give evidence in Dr Forbes' rape trial in the Supreme Court.

Reserve Corporal Dwayne Outten also gave evidence.
It is alleged that on February 3, 2015 at his clinic, Dr Forbes touched the complainant's vagina and masturbated during a medical exam and raped her on March 2, 2015, having sex with her without her consent during a medical abortion procedure.

Mr Pinder told the court that he knew Dr Forbes for some 20 years and began working for him at Carico Medical Clinic in Freeport in 2000.
He said he was also employed as a nurse orderly and his work hours were from 8am to 5pm, but that he would be in and out of the office. He said that the office door was left unlocked and the public was able to enter freely and patients came in during work hours.

Mr Pinder said that he met the complainant when she first came to work at the clinic. According to earlier court testimony from Dr Forbes, the complainant was hired on January 31, 2015.
"What was the interaction (at work) between Dr Forbes and the complainant?" Forbes' attorney Osman Johnson asked.
Mr Pinder replied: "Dr Forbes handled himself professionally and she (the complainant) was flirtatious with Dr Forbes and would touch him and say smart remarks."
When Mr Johnson asked Mr Pinder if he had ever seen Dr Forbes expose his private parts to the complainant in the office, he said that he did not.
"Did you hear her scream, 'no, stop'?" he questioned.
"No," he replied.
Mr Pinder said that the complainant never came to him to complain about Dr Forbes, and he had never seen the doctor force himself on the complainant or act inappropriately with any other staff there.
Prosecutor Erica Kemp in her cross-examination asked Mr Pinder what his duties were as office manager at the clinic.
He responded that he dealt with Forbes' patient files, and saw to it that the facility was in order and clean. He also performed the duties of an orderly and would stand at the door when Forbes was with a patient.
When asked by Mrs Kemp if the door would be closed, he said the door would be open.
"While the doctor was speaking with patients you are at the door, and if a patient is having a physical you are at the door?" She asked.
"Yes, but if they feel uncomfortable with me there then someone else will be called in," said Mr Pinder.
When asked what other things he did there, Mr Pinder added that he would also type documents/forms if the secretary was not there.
After being pressed for the complainant's name, Mr Pinder admitted that he did not remember it.
When asked how many secretaries had been hired at the clinic and how many patients would come into the office on a daily basis, Mr Pinder was unable to provide answers to the questions.
He said that he could not recall how many patients visited on a daily basis because it was a busy establishment. But according to earlier testimony by Forbes, business was slow at the clinic.
"You really can't help us with anything that happened there in mid February?" Ms Kemp asked.

"No," he replied.
"At any given day in March 2015, if something happened (at the clinic) you cannot help the court with what happened because as you said you were in and out of the office?"

Mr Pinder admitted that he could not recall what happened at the office on March 2 or March 15 or any given day in March.
Ms Kemp asked: "On March 4 can you tell us what happened?"
"I can't…I don't have any records," he replied.
Corporal Reserve Dwayne Outten said on March 16 he was at Forbes' clinic and was given a $US 100 bill to take to the complainant at her home. He was given directions to the complainant's house by the doctor. The doctor, he said, had previously introduced the complainant to him as a new employee.
He said the doctor told him that he had fired the complainant and wanted to avoid any trouble and wanted him to drop off some money to her.



The reserve officer, who is also employed as heavy equipment operator, said the complainant was not at home so he returned the money to Forbes.
The prosecutor asked the reservist if he had anything to do with the investigation into the matter that is before the trial, and he said he did not. The defense then closed its case when their third and fourth witnesses were unavailable.
The trial resumes on Friday.