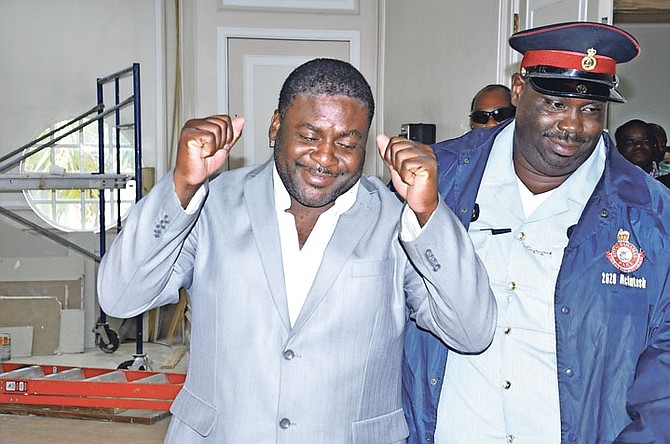 By DENISE MAYCOCK
Tribune Freeport Reporter
dmaycock@tribunemedia.net
Dr Gerald Forbes, 45, has been acquitted of rape and indecent assault in the Supreme Court in Grand Bahama.
A jury of four women and five men deliberated for about an hour and 20 minutes before returning around 3pm on Monday with their unanimous verdicts, finding the doctor not guilty by 9-0 on both counts.
A 20-year-old woman, who was employed at Forbes' Carico Medical Clinic, alleged that she was indecently assaulted by the doctor during a physical exam in February, and that he raped her while performing an abortion procedure in March 2015. He has denied the charges.
Prosecutor Erica Kemp and Forbes' attorney Osman Johnson completed their closing arguments on Friday, and on Monday Justice Estelle Gray Evans gave her closing summation in the case. The jury retired around 1.40pm to deliberate.
After the verdicts were delivered, Justice Evans told Forbes that the charges were dismissed against him and he was free to go. She thanked the jurors for their service to the court.
Mr Johnson then stood and addressed the court.
"We are pleased with the trial proceedings. We are also pleased with the result and the operation of the criminal justice system, which is a well functioning legal system," he said.
Mr Johnson was retained in the middle of the trial to represent Forbes, who had fired his first attorney Wendell Smith. By that time, the prosecution had already closed its case.
Forbes, who has operated a private medical practice in Freeport for some 20 years, took the stand and testified under oath.
During his testimony, he told the court that in February business was slow and that he and the complainant left work and went to a bar. Afterwards they went to his home where they allegedly drank some more, smoked marijuana, and had consensual sex.
His evidence was that he did not rape the complainant on March 2 because he was not at the clinic on the day in question, and provided alibi witness, Jumela Mathieu, a tenant and former employee who testified that she was with the doctor the entire time on that day. He also insisted that he does not perform abortions because they are against his religious beliefs as a Catholic.
Outside the courtroom, Mr Johnson told The Tribune that his client felt vindicated after the ordeal of being arrested and charged with the offences.


"The doctor and I feel absolutely vindicated by the unanimous verdicts that were handed down by this jury," he said.
"The doctor has lost a year-and-a half of his life and his career is left in ruins. Indeed, he has lost many of his friends and his social standing has been damaged, some may say irreparably."
Mr Johnson criticised the Attorney General's Office for its haste in moving matters to the Supreme Court by voluntary bills of indictment (VBI).

"The AG's Office is oftentimes too keen to prosecute our citizens by VBI without first establishing if there is sufficient evidence on which to have the matter moved to the Supreme Court," he said.
"The message that needs to be sent is that there has to be a more detailed approach that is adopted in respect to which matters are proceeded by way of VBI. They are sending too many of our innocent citizens before the Supreme Court where there is scant or no evidence at all," he said.
Mr Johnson stated that the law provides for a preliminary inquiry process.
"It is cases like these which demonstrate the need that we have this in our jurisdiction to allow our citizens the full range of options that are available to them under the law."
The attorney said that his client has been condemned by the public, and in the news media all around the world
"This case has received coverage in websites all over the world. And now, finally, he has had his day in court; his name has been cleared and his innocence has been confirmed."
Mr Johnson said he hopes that the powers that be learn a very important lesson from the trial.
"We must refrain from first being so quick to prosecute cases through the Supreme Court on which there is no evidence; we need to provide our citizens with more safeguard and guarantees of a fair trial process," he said.