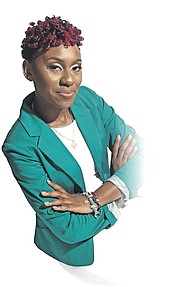 By JEFFARAH GIBSON
Tribune Features Writer
jgibson@tribunemedia.net
WHAT do you do when you are a naturalista but it's a real hassle finding the right items to keep your tresses strong and healthy? For Richae Barton, starting a business in the hair care industry and becoming a retailer of all the products necessary to manage her hair was the solution.
The young entrepreneur launched The Tress Xpress a little over a year ago after becoming frustrated with trying to find the right products for her hair. She realised that there were many others out there who had similar problems.
"I got into the hair care business mainly because I had first-hand experience of hair care from high school. I graduated from Aquinas College where I learned the basic understanding of cosmetology. Being natural sparked my curiosity, as I would watch dozens of hair tutorials and try to mimic the hairstyles," she told Tribune Woman.
The 21-year-old College of the Bahamas marketing major said starting a business in hair care was something she knew she would eventually do, but the route there was unclear.
"From the constant raves of being featured on a natural hair page, I also decided to create one – 'NaturalsWithCurls'. I always had the idea to open a hair care business, but there were a few things missing. I would often shop around local beauty supply shops and leave disappointed by the brands or lack thereof," she said.
Having established her own business, Richae said the adage, "What the Lord has for you is for you", has never been more true for her.
The Tress Xpress offers healthy hair products that rejuvenate hair follicles, which results in stronger, healthier and thicker hair. The products are for men, women and children, and for all hair types.
One of the most common hair problems Richae finds women complaining of is having sparse or thinning hair.
"I find that a lot of women complain about severe hair thinning, either on their edges or in the middle of their scalp. Time to time others also complain about stunt growth phases or the typical lack of moisture," she said.
Sometimes putting too much pressure on the hair – which can happen when a woman's hair is braided too tightly or with the consistent use hair bonding glue at the hairline – can cause this problem.
While it varies from person to person, usually when the right steps are taken women can see growth back to the hairline in a matter of months, said Richae.
"Although everyone is different and some people don't require that long, my average client would use our products for one month and be back because of the amount of tremendous growth they've seen," she said. "But realistically I would say the answer is about two months. It is pertinent that you keep up you're your trims, oil your hair and keep hair in a bonnet or sleep on a satin pillow case."
What has also helped Richae remedy problems with her own hair was a change in diet.
"In the culture we live in we really don't watch what we eat. Diabetes runs in my family so our diet switched tremendously. As a result of that I started to watch what I ate and the result from that was healthy hair along with some good products," she said.
"Although it is easier said than done, cutting back on one particular item or three weeks of healthy eating can make difference. The best products often have water as their main ingredient, thus the reason I advise my clients to drink their daily recommended glasses of water."
A few other tips Richae shared with us to ensure that your hair stays healthy and strong include the following:
• Deep condition regularly; try a hot oil treatment every few weeks.
• Trim dead ends.
• Always secure your hair at night by either using a satin bonnet or sleeping on satin or silk pillowcases.
• Your scalp needs love, too. When using hair products it matters more where you apply the product, than how much is applied.
• Minimise the amount of heat used on hair. If possible use a heat-protective spray before using heat styling tools.
• Stretch your relaxers to an at least four-month interval.
• Make sure your diet is comprised of foods that are beneficial to your body, those rich in iron, zinc, biotin, protein and omega-3, to name a few.
• Be patient, although length and thickness is desired, healthiness is preferred.