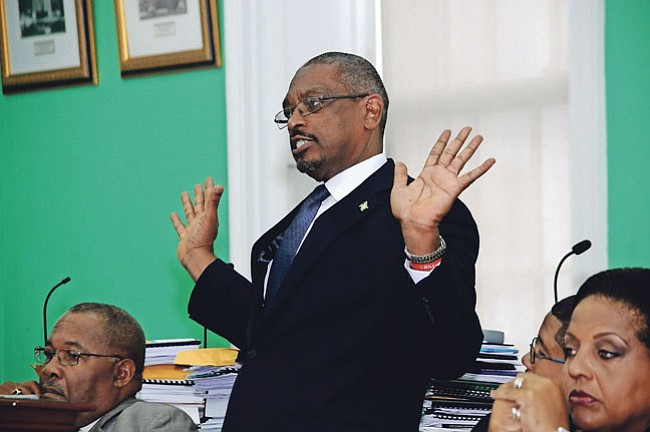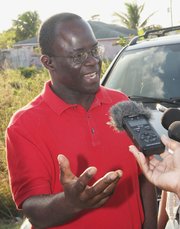 By TANEKA THOMPSON
Tribune News Editor
tmthompson@tribunemedia.net
FREE National Movement Leader Dr Hubert Minnis abused his power when he removed former Chairman Darron Cash from the party's Executive Committee recently, former Prime Minister Hubert Ingraham told The Tribune yesterday.
Because of his removal, Mr Cash, who has openly supported Long Island MP Loretta Butler-Turner in her leadership bid, is no longer able to vote during the FNM's convention this week.
Mr Ingraham said Dr Minnis contacted him about concerns that the former senator was Mrs Butler-Turner's campaign manager and said he was considering removing Mr Cash from the committee.
The former North Abaco MP said he counselled Dr Minnis against the decision and thought the matter had been resolved. The fact that Dr Minnis went ahead with the move is "distressing" and a "black mark against him," Mr Ingraham added.
His comments came when asked if he thought the delegate selection process for the upcoming convention had been transparent.
Mr Ingraham said: "I don't know enough about the process to be able to comment on it except I know about one case that was concerning to me.
"It came to my attention that Darron Cash, who was appointed to the Executive Committee by Dr Minnis, was removed by Dr Minnis. Now, this is after Minnis had called me himself and said to me that he was considering removing Darron Cash from the executive of the party because Darron was managing Loretta's campaign and that's why he was going to do it. I gave him strong advice not to do so, and my understanding in the conversation was he would not do so, that he would keep Darron on. "So when it came to my attention that he actually removed Darron, I called him. I didn't get him, I left a message – he called me back. I referred to the conversation we previously had, etc, he said yes, but other people had told him he should remove Darron and he did so. That was very disappointing and distressing.
"I did not bring to his attention at that time because I wasn't quite conscious of it at the time, that Brent Symonette is also somebody who has been appointed to the Executive Committee by Minnis. Brent Symonette is also supporting Loretta and so I think it's grossly unfair and an abuse of authority and his power for him to fire Darron because he supports Loretta and not fire Brent. At least in Brent's case, Brent would have been a delegate anyhow because Brent is a delegate by virtue of the fact he is a former deputy leader of the FNM and that gives him the right to be a delegate at the convention. Darron doesn't have that right to be a delegate so Darron won't be a delegate. And a party ought to keep people together and so that's the one black mark I have against Minnis right now. That's really distressing."
Mr Ingraham explained that during his 19 years as leader of the FNM, and even when the party was led by former National Security Minister Tommy Turnquest, no one from the Executive Committee was forcibly removed.
"The leader of the FNM, under our constitution, is able to appoint six persons to the executive of the party and those persons serve at the leader's pleasure, but generally speaking until the next convention," he added. "They can quit but there has been no case from the time we established – this came about after I became leader of the FNM, so during my entire tenure and Tommy Turnquest's tenure, when somebody was appointed they lasted until the next convention (or) until they themselves resigned."
After he was removed from the Executive Committee, Mr Cash alleged that it was a "systematic effort" on the part of the leader to "corrupt" the process. He also accused Dr Minnis of engaging in "ethnic cleansing" with a view to purging the party of anyone who did not support him.
Mrs Butler-Turner has also recently raised concerns about the FNM's convention process, saying on July 17 that there were some "irregularities" with the list of delegates that she has seen. She said if it is proven that something untoward has occurred with the process, it should be blamed on FNM Leader Dr Hubert Minnis.
The FNM's convention begins today with voting for the party's executive positions to take place on Friday.