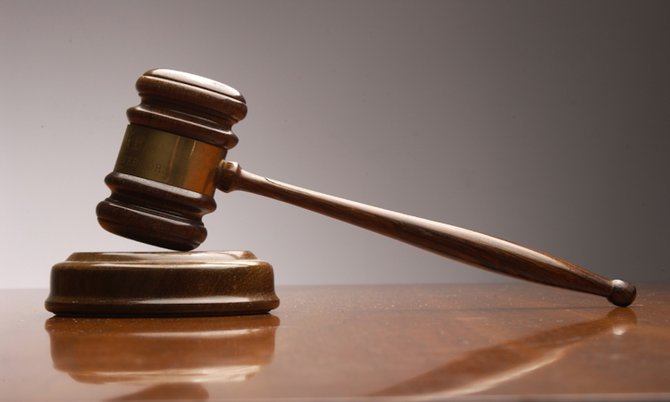 By LAMECH JOHNSON
Tribune Staff Reporter
ljohnson@tribunemedia.net
A JUDGE has reserved his decision on what sentences he will impose on two men convicted of having a role in the fatal shooting five years ago that claimed three lives, including a pregnant woman due to give birth to her son.
Shawn Knowles, 43, and Timothy Saunders, 36, reappeared in the Supreme Court yesterday before Senior Justice Stephen Isaacs for a sentencing hearing to complete the trial relating to the July 30, 2011, deaths of Edward Braynen, Chackara Rahming and Erica Ward.
Probation reports, which had been requested by the court for consideration, were exhibited and evidence given on the findings by probation officers from the Department of Rehabilitative Welfare Services.
Ellen Stubbs prepared a report on Knowles and said that he grew up in an unstable environment.
"His mother didn't fulfil her obligations and he had to leave school at an early age to find work and help raise his siblings. He left school after the fifth grade," she added.
The probation officer was asked if there were any issues with Knowles at the prison. Ms Stubbs said no. "The prison officers described him as a quiet young man who didn't create any problems," the court was told.
Prosecutor Cordell Frazier asked the probation officer if Knowles had any previous convictions.
Ms Stubbs said Knowles said he had one and she verified that with prison authorities and learned that he had been sentenced, in 2003, to 10 years imprisonment for the manslaughter of his wife who had been accidentally stabbed in the neck when attempting to intervene in a scuffle between her husband and a love interest.
"Did he express remorse?" Ms Frazier asked.
"From the interview I conducted, I don't recall him using the word remorse," Stubbs said.
Romona Farquharson-Seymour, Knowles' lawyer, asked the probation officer if she spoke with his maternal grandmother. Ms Stubbs said she had as Knowles' grandmother was able to establish a pattern in Knowles' behaviour from his own's mother's conduct.
Knowles' mother, the probation officer learned, left school after the fourth grade and was a substance abuser. She also learned that Knowles' father was absent in his life.
"Is it correct to say that Knowles stopped school to feed himself and siblings?" Mrs Farquharson-Seymour asked.
Ms Stubbs said "yes". She also said his siblings had to be placed in a children's home before being removed by relatives of his mother.
The probation officer confirmed that she had spoken with Latoya Sands, mother of Knowles' two-year-old son and that she had spoken of how Knowles not only took care of his son but her other children as well. She had described him as an inspiring person, the court heard.
"His employers also spoke well of him, correct?" the lawyer then asked. Ms Stubbs said yes.
Knowles, who worked for two construction companies prior to incarceration, was described to the probation officer as a "mannerly, good worker who didn't get involved in altercations on the job.".
On the matter of remorse, the probation officer told Knowles' lawyer that he did not say those words but did cry when recalling the victims, who he said were close to him.
Kermit Harris-Smith, chief welfare and probation officer, said that Timothy Saunders' development years were "fairly normal" notwithstanding his father's absence in his life. That role, he said, had been assumed by his mother.
Saunders left school after the seventh grade but had maintained steady employment up until the time of his incarceration. He has had no infractions at the prison.
Saunders maintained his innocence but did indicate the victims were close to him.
"You agree he advised you that he tried to help them by telling them to go to the police?" attorney Lennox Coleby asked.
"I do not recall. A conversation took place regarding those involved in the incident but that I don't recall," the probation officer said.
Senior Justice Isaacs will reserve his decision until August 4 at 9.30am.
The Crown alleged that the killings were in retaliation for the July 12, 2011, murders of Kevin Forbes and Alwayne Leslie at a Haitian village off Montgomery Avenue.
Ward was pregnant with the child of Serrano Adderley, the 30-year-old man charged with the deaths of Forbes and Leslie. Knowles is the nephew of Forbes.
The victims were asleep in a one-bedroom apartment when intruders, who the prosecution alleged to be Knowles and Saunders, forced their way inside by blasting the locks with a shotgun. Once inside, they shot the woman in the head and Braynen in the back using a shotgun.
Four young children inside the apartment were found unharmed by police.
Mr Coleby suggested that associates of Leslie committed the murders.
Mrs Farquharson-Seymour said there was no evidence – fingerprint, footprint impression or DNA – linking Knowles to the scene of the killings.
Though the jury's 8-4 guilty verdict for three counts of murder were not acceptable in law, they found Knowles and Saunders guilty of manslaughter by provocation on the same count.
The jury also returned a guilty verdict of 8-4 on the remaining charges of possession of ammunition and two counts of possession of an unlicensed firearm, for which Knowles was separately charged.