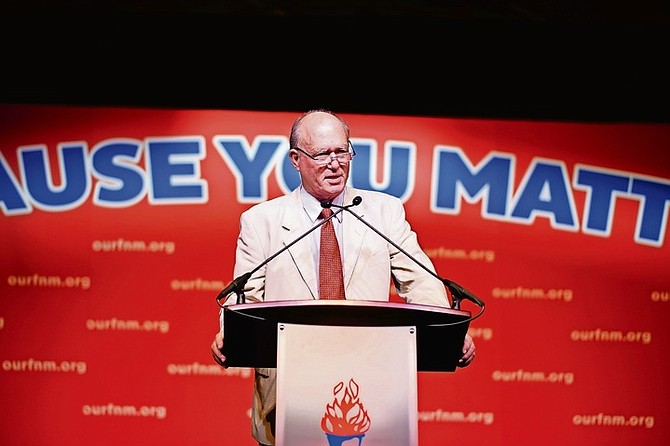 UPDATE: This statement was released by the office of Richard Lightbourn this afternoon, with regards to his comments last night that drew fierce criticism.
"I would like to sincerely apologize to the Bahamian public and women in particular for my comments made last night at the Free National Movement convention.
"It was never my intention to offend anyone but to speak to the need for effective parenting and the support for a strong family structure which will go a long way toward solving many of our country's social ills.
"It is a woman's right to decide what to do with her body.
"I received immediate and justified criticism for my comments. It was an extremely poor decision on my part.
"My comments in no way shape or form reflect the position of the FNM."
By RICARDO WELLS
Tribune Staff Reporter
rwells@tribunemedia.net
MONTAGU MP Richard Lightbourn last night proposed that the country adopt legislation that mandates unwed mothers with more than two children have their "tubes tied" in an effort to curtail the country's social ills.
In a speech that could barely be heard on the party's convention floor due to chants of "Roc With Doc", Mr Lightbourn attempted to layout initiatives he proposed could be implemented as the Free National Movement's (FNM) crime plan.
Mr Lightbourn indicated children born in unstable family situations often times grow up to participate in criminal activities.
To offset that occurrence, the shadow attorney general said: "It is also necessary for us as a nation to consider adopting the lead of several countries in the world which result in unwed mother having her tubes tied after having more than two children, which would in the end result in fewer children being born. The state should not have the burden of paying for the upbringing of children.
"By adopting such measures, there will be less classrooms needed in the future, less out of school every year seeking employment and would also result in the mother of these children being able to live a better life, not having to bring up so many children."
Moreover, Mr Lightbourn said an FNM government would introduce legislation that would enable a court to deduct from a father's pay cheque an amount to be paid directly to the mother of children born out of wedlock.
"Many young women have five and six children many of whom are born out of wedlock. Many of the fathers of those children have little involvement in the child's upbringing either emotional or financial."
"The laws of our country and the legal system is such the father is not likely to be compelled to assist financially in the upbringing of the child."
His suggestions drew the ire of many people on social media, with scores of women viewing the comments as offensive and an overreach of government's legislative powers, while the party moved to distance itself from them.
Later, Mr Lightbourne told The Tribune it had been "a poor statement" from him. "It was intended to state that this was the position adopted by several countries and we as a country need to develop a position to enable the country to address the number of children born to teenage women," he said in an attempt to clarify his remarks.
FNM Chairman Sidney Collie released a statement saying: "Mr Lightbourn's comments tonight were personal and do not reflect the position of the FNM. The FNM does not believe in restricting anyone's rights including women's reproductive rights. The FNM has and will continue to fight for all Bahamians, regardless of gender."
The Torchbearers Youth Association also distanced themselves from Mr Lightbourn's comments, describing them as "not only careless but insensitive".