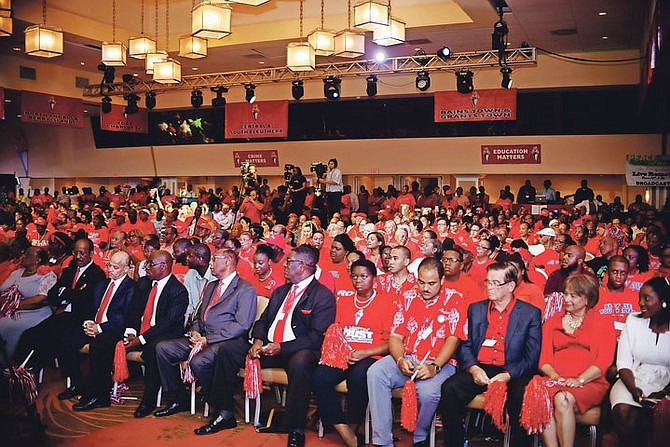 By AVA TURNQUEST
Tribune Chief Reporter
aturnquest@tribunemedia.net
ALTHOUGH video footage of Free National Movement leadership contenders sharing a dance on the convention stage has gone viral, senior FNMs said yesterday that it was too early to tell whether the party is on track to unification.
"I think it's too early to see that," said former Deputy Prime Minister Brent Symonette as delegates entered the Melià ballroom on the second day of the national convention.
"I think we have to look to Friday and see how the voting goes, see which candidate people elected."
Friday's leadership vote is expected to quash the bitter infighting that has dogged the party, with many FNMs pointing out that the true test lies in how the victor treats the loser.
Killarney MP Dr Hubert Minnis is defending his leadership post against challenger and former deputy, Long Island MP Loretta Butler-Turner.
Despite the show of solidarity on the convention stage, Mrs Butler-Turner has publicly stated that she does not believe she will be given a fair chance if Dr Minnis is re-elected as leader and it has been speculated that she will not be ratified as the party's standard bearer for her consistency.
She has also accused the Killarney MP of doing everything possible to "silence" her voice and "steal" the party's convention.
On Wednesday night, Dr Minnis told supporters that if he is elected the party will begin a time of "healing and forgiveness," adding that he will put aside "animosity" and do what is best for the people of the Bahamas.
Yesterday, Mr Symonette insisted that the healing process was more than just a verbal statement but required concerted effort.
"There has to be a concerted effort to heal," he said. "It's one thing getting up on a podium and saying 'heal'. I refer to those persons who are unfortunate enough to be divorced, sometimes you get irreconcilable differences and in a run-up to elections people say things or do things sometimes accidentally or without thinking. So we'll have to see how that process works."
During a press briefing yesterday morning, incumbent Chairman Sidney Collie said he was pleased to see Dr Minnis and Deputy Leader Peter Turnquest share the stage with Mrs Butler-Turner and her running mate for deputy Dr Duane Sands.
Mr Collie said: "The lines are drawn, the two top spots have four candidates. No one has withdrawn, there have not been any brokered talks and so I'm assuming unless something happens between now and Friday that there will be contested elections for those positions.
"I was happy to see how the convention ended last night with the two candidates for leader and the two candidates for deputy leader mount the stage together and close out the convention," Mr Collie said.
"I view this as the beginning of the healing process and I'm optimistic that before the end of this convention we are going to have a clear demonstration of unification of the party."
However, former Deputy Prime Minister Frank Watson contended that it was still too early to tell whether the party has begun to move forward. He expressed confidence that all issues raised ahead of the convention are surmountable, and strongly decried the prospect of consequences for opponents.
"It's a bit too early to say," Mr Watson said. "I think we have to get elections behind us and then we can begin to unify. In the heat of campaign things are said but there hasn't been anything that will prevent us from uniting. We have to swallow those things and move forward.
"I don't think we should be punishing anybody. I think people have a right to oppose whatever they feel. There can't be any consequences unless there is a really ridiculous position that someone takes, but ordinarily just contesting an election is not something for which anybody in this party has ever been or should ever be punished.
"It would set a precedent," he said.
Responding to whether he considered the threat from parliamentarians to have Dr Minnis removed as leader of the Official Opposition in Parliament as egregious, Mr Watson said: "Those things will pass away."
Both Mr Symonette and Mr Watson have publicly endorsed the Butler-Turner/Sands ticket.