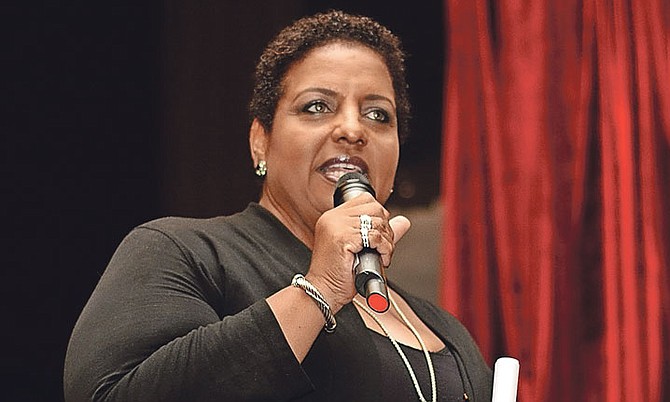 By SANCHESKA BROWN
Tribune Staff Reporter
sbrown@tribunemedia.net
LONG ISLAND MP Loretta Butler-Turner said yesterday she "is not sure" if she will run again for leader of the Free National Movement at the party's July convention.
In an interview with The Tribune, Mrs Butler-Turner said the FNM's parliamentary caucus is pleased that FNM Leader Dr Hubert Minnis decided an early convention was the best way forward.
The former FNM deputy leader said the parliamentary caucus has not met yet to discuss who will contest Dr Minnis at the July convention.
"As you well know, the date was set on Thursday evening and I flew out early the next morning.
"I have not been able to think about it, but I know the parliamentary caucus is happy because it is what we wanted," Mrs Butler-Turner said.
"I imagine that people are weighing their options. I have so many things that I am dealing with so I have not had the opportunity to put a lot of thought into it. So I do not know at this point. I haven't sat down and met with anyone yet. I have to sit down with the other parliamentary members and determine what it is they envision. We are pleased that this now gives the party an opportunity to create the best team moving forward and rally together to beat the PLP."
Mrs Butler Turner also said she is "not sure" if she will be ratified by the FNM to run in Long Island again. In fact, she said she has been told that other FNMs have already begun campaigning in her constituency.
"I am the incumbent and the FNM has to make its decision and the people in Long Island will make their decision," Mrs Butler-Turner said.
"I feel very strongly that voters in Long Island know who cares for them, who works for them and who has proven to be ever present for them. I have confidence in the people of Long Island."
Dr Minnis and Fort Charlotte MP Dr Andre Rollins, along with other FNMs, were in Long Island over the weekend as the island celebrated its annual regatta.
When contacted on the reason for the visit, Dr Minnis declined to comment.
In February, Dr Minnis said Mrs Butler-Turner "definitely" had his support as the party's 2017 general election candidate amid speculation that Dr Rollins was on that island reportedly to court party supporters.
At the time, Dr Minnis told The Tribune he was certain that when the ratification process takes place, Mrs Butler-Turner would have the full support of the party. However, he did not say when this would be done.
Meanwhile, more than a week ago, six of the FNMs 10 MPs, including Mrs Butler-Turner, gave Dr Minnis an ultimatum: call an early convention or they would write to Governor General Dame Marguerite Pindling to have him constitutionally removed as leader of the Official Opposition in Parliament.
Dr Minnis has downplayed the threat, telling The Tribune last Monday that he "has never felt so good" and is not concerned about the "noise in the market."
At the party's last convention in November 2014, Mrs Butler-Turner was unsuccessful in her bid to unseat Dr Minnis.