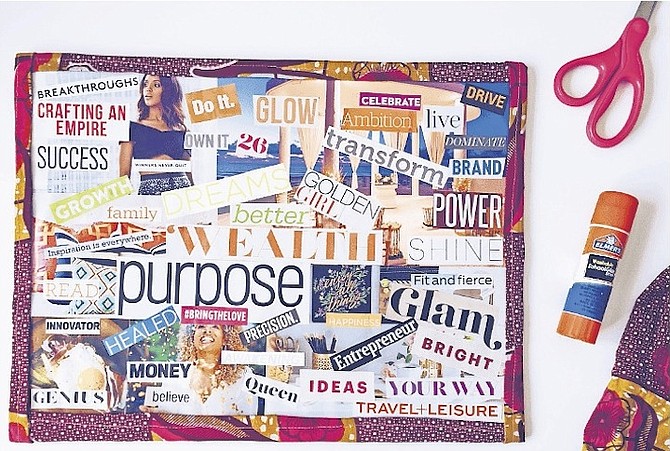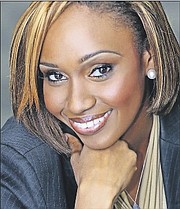 By JEFFARAH GIBSON
Tribune Features Writer
jgibson@tribunemedia.net
SOME may call it a coincidence that everything Keshelle Davis posted on a dream board nearly four years ago has manifested in her life. However, the young entrepreneur and educator believes that there is a link between clearly outlining one's dreams and seeing them come to fruition.
Keshelle, founder of Creative Wealth Bahamas and the youngest woman ever to serve on the Bahamas Chamber of Commerce board, is taking the dream board experience to the next level.
A dream board, Keshelle explained, is a board or a poster to which you attach cut-outs or print-outs from various magazines or online sources. Many people have found a dream board, also known as a vision board, to be a useful visualisation tool in helping them fulfil their aspirations.
The words and images you use can be very specific, like a house or a car, or they can be images that evoke a feeling, like a photo of a person meditating.
The Dreamboard Party Experience, hosted by Keshelle, hopes to inspire Bahamians never to let go of their dreams.
Held every six to eight weeks at the British Colonial Hilton, the event seeks to help people to not lose sight of their dreams by posting them on a board. The next instalment takes place on July 8.
"The Dreamboard Party is for drifters who have buried their dreams and need to be inspired, dreamers who feel stuck and frustrated from unmet dreams and need to be empowered, and doers who are weary with the pursuit of their dreams and need to be encouraged," Keshelle told Tribune Woman.
During the event, participants will create a map that will lead them to the best treasure of all – the life of their dreams.
Keshelle created her first dream board in 2008 while attending a course in California. Part of her assignment was to create a board to share with her fellow students.
On her board, Keshelle placed a scenic picture of two white doors leading to a beautiful garden and an amazing view of the light blue sky meeting the blue-green ocean. The picture evoked a feeling of peace, calm and total relaxation, she said.
"Later that year, while on a much needed mini vacation, I walked into the hotel and was shocked at what I saw – almost the identical view of what I had pasted on my board months earlier. That made me keep the tradition each year. In December 2010, I held my first official Dreamboard Party with a group of girlfriends.
"At the Dreamboard Party 2012, creating my fifth board, I sat there ripping out pictures from magazines and chatting with my girlfriends. I cut out pictures of the usual career and business stuff. I cut out pictures of meals to keep me focused on my body and wellness dreams. I cut out a picture of a BMW – which is sitting in the driveway – and a picture of a plane representing my dream of living a travel-filled life. Lastly, realising that I had sufficiently established my career and was finally ready for love, I cut out a picture of a random dark, debonair, bald-headed man and placed it onto my dream board. I just liked the way the man looked. When my board was done, I went home. I hung it on my wall as usual and carried on."
Shortly after, on January 6, 2013 Keshelle went out on a first date.
"Four months after I made my most recent dream board I got engaged. After the engagement, while getting ready for my big day, I looked up at my dream board on my bedroom wall and there at the bottom left-hand corner was the picture almost identical to the man I was about to marry. Amazed that this power board had manifested again, I managed only to say the word 'wow'. Today, I'm happily married to Glenn Davis, the one who I forever call the 'man of my dreams and my dream board'," she said.
One of the main goals for Keshelle is to inspire people to do something about their dreams, to ignite a fire in her participants to live a life they dream about and to create a community of dream-driven people.
"Dr Myles Munroe, my pastor and mentor, once said, 'The poorest person in the world is a person without a dream. The most frustrated person in the world is a person with a dream that never became a reality.'
"In my corporate training business I see this quote being lived out every day; people with 'good jobs', but frustrated because they are not fulfilled because they are not doing what they truly desire to do in life," she said.
Keshelle told Tribune Woman she hopes participants of the next month's Dreamboard Party Experience are inspired, empowered, excited, free and impacted after the event.
"They will walk away instant ambassadors for the event, singing its praises and happy to talk about the Dreamboard parties to their friends and colleagues in a wonderfully positive way. I will know that the experience made a difference to their lives and that they now have the very first step to achieving their long-held dreams," she said.