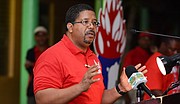 By AVA TURNQUEST
Tribune Chief Reporter
aturnquest@tribunemedia.net
DISSATISFIED Free National Movement members will have no choice but to accept the outcome of the party's national convention next month, FNM Deputy Leader Peter Turnquest said yesterday.
Mr Turnquest underscored that the party could not afford any further discord so close to a general election.
He confirmed his plans to defend his post at the national convention in July.
"We are so close to election," he said, "we can't afford for any further division. There are those who are of the view that we needed to have this
convention to settle the leadership issues, well the same thing was said about the last convention."
He added: "Be that as it may, we're so close to election now that we have no choice, so hopefully all those who are dissatisfied will find a way to resolve issues."
The party has announced a "full convention" scheduled for July 27 - 29 at the Melià resort. The new date, roughly four months ahead of the pre-established November date, was confirmed during an executive meeting last week to quell discord among the party's parliamentary caucus.
This came after six of the FNM's 10 MPs gave party leader Dr Hubert Minnis an ultimatum: call an early convention or they would write to Governor General Dame Marguerite Pindling to have him constitutionally removed as leader of the Official Opposition in Parliament.
The six FNM parliamentary members at the centre of the latest push to oust Dr Minnis as leader were St Anne's MP Hubert Chipman, Montagu MP Richard Lightbourn, North Eleuthera MP Theo Neilly, Central Grand Bahama MP Neko Grant, Long Island MP Loretta Butler-Turner and Fort Charlotte MP Dr Andre Rollins.
To support their bid, the parliamentary caucus issued a scathing assessment of Dr Minnis in a memorandum to the party's council.
That memo described Dr Minnis' perceived flaws, including his failure to take command of the party "at almost every turn" despite their repeated efforts to support him.
Dr Minnis has downplayed the threat, telling The Tribune last week that he "has never felt so good" and is not concerned about the "noise in the market."
At the party's last convention in November 2014, Dr Minnis successfully defended his post against former Deputy Leader Mrs Butler Turner by a resounding margin.
Mr Turnquest won the party's deputy leader post by more than 100 votes, beating out both former FNM Chairman Darron Cash and former Senator Dr Duane Sands.