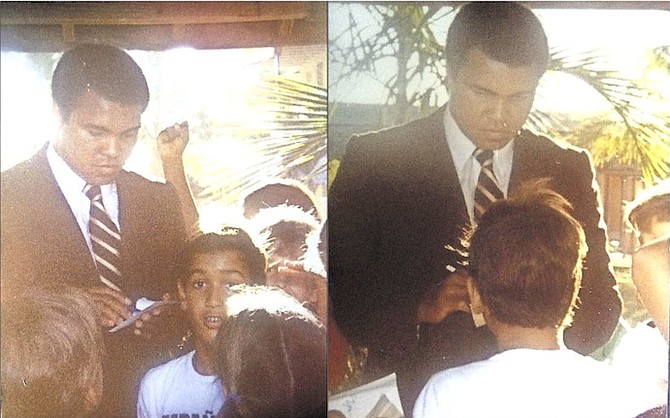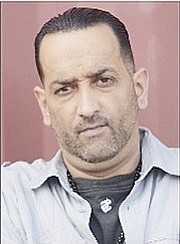 By Inigo 'Naughty' Zenicazelaya
Toll the ring bell
As sports tickers buzzed across tv screens worldwide with the melancholy news of the passing of Muhammad Ali, I sat quietly in my front room tears streaming down my face, reflecting on a man who in so many ways impacted my life and those of my peers all while living up to his nickname 'The Greatest'.
Many of my fondest childhood sports memories involved Ali.
I watched countless interviews between Ali and Howard Cosell (both had major impacts on my career choices obviously) tucked right next to my grandpa, K M Thompson, in his recliner, sharing laugh after laugh.
It was from the same vantage point we watched Ali with bated breath punch after punch, round after round, eventually besting the likes of Floyd Patterson, Joe Frazier, George Foreman, Ken Norton, Leon Spinks, Jerry Quarry and Earnie Shavers to name a few of the greats disposed of by Ali.
All in a name
From early in his career, Cassius Clay was known as an inspiring, controversial and polarising figure both inside and outside the ring.
At 22, he won the world heavyweight championship from Sonny Liston in an upset in 1964.
Shortly after that, Clay converted to Islam, changed his "slave" name to Ali, and delivered a message of racial pride to African Americans and a voice of resistance to white domination during the 1960s Civil Rights movement.
Ali further antagonised the white establishment by refusing to be drafted into the US military, citing religious beliefs and opposition to American involvement in the Vietnam War. He was arrested, found guilty of draft evasion and stripped of his boxing titles. He successfully won on appeal in the US Supreme Court, which overturned his conviction in 1971.
However, by that time, he had not fought for nearly four years - losing out on his prime years as a boxer.
Ali's actions as a conscientious objector to the Vietnam war made him an icon for the 'counterculture' generation, and the most hated man in America to other factions. For his sacrifices alone in this regard, Ali easily earned the monicker 'The Greatest'.
Trailblazer
Ali was the first three-time heavyweight champion; he won the title in 1964, 1974, and 1978, and shares the list now with only Mike Tyson, Lennox Lewis and Vitali Klitschko.
Ali lived up to the billing as "The Greatest" by being involved in several historic boxing matches, all precursors to what we know today as Pay Per View (PPV) "Fight of the Century", "Super Fight II" and the "Thrilla in Manila" versus his rival Joe Frazier, the first Liston fight, and "The Rumble in the Jungle" versus George Foreman.
And of course "Drama in Bahama" - a humiliating loss versus Trevor Berbick in Nassau in 1981 (after which Ali retired from boxing).
Toe to toe with
The Champ
During his training camp leading up to the "Drama in Bahama", Ali visited several local schools, my alma mater St Andrew's being one of them. It was during his visit that I experienced one of the most surreal moments of my life.
After jostling for position, tapping in to my inner 'Artful Dodger', I managed to wiggle my way into a face-to-face encounter with 'The Greatest' - 'The Champ' Muhammad Ali!
Without missing a beat I hit him with "Float like a butterfly, sting like a bee".
"Rumble young man, rumble."
Ali countered with "You got it down pat, you ready to be the champ one day youngblood?"
Of course I answered yes as I mugged for a picture amongst the masses and waited patiently for my autograph. It was truly a life changing moment.
Gift of the gab
When I think back, I think some of Ali's 'greatness' rubbed off on me - or at least influenced me in a way like so many others in my generation to express yourself, with a flair and bravado never seen before, in your face, braggadocio, winning the fight with your verbal jabs long before your physical ones land.
For a testimony to how great Ali was, and the effect he had globally, look at the legacy of famous 'smack talkers' that lives on in the world of sports inspired by 'The Greatest'.
For example, in 'Rocky 3', the whole menacing stalking of Rocky Balboa, the champ, by No.1 contender Clubber Laing (played by Mr T), is based on Ali's pre-fight stalking and taunting of Sonny Liston, which had the champion Liston 'tilted' and off his game long before he hit the ring.
• Here's a list of Ali-inspired 'smack talkers' in pro sports.
NBA: Michael Jordan, Shaquille O'Neal, Kobe Bryant, Charles Barkley, Larry Bird, Isaiah Thomas, Charles Oakley, Reggie Miller, Allen Iverson.
NFL: Lawrence Taylor, Michael Irvin, Deion Sanders, Brett Favre, Michael Strahan, Terrell Owens, Richard Sherman, Josh Norman.
BOXING: Don King, Mike Tyson, Lennox Lewis, 'Sugar' Ray Leonard, Roberto Duran, Prince Naseem Hamed, Hector 'Macho' Camacho, Floyd 'Money' Mayweather, Manny Pacquiao.
All of these were brilliant 'smack talkers.' Each one is a first ballot 'smack talk' Hall of Famer. Yet they all still fail next to 'The Greatest'.
THE GREATEST - IN
HIS OWN WORDS
Naughty's 30 favourite
Ali sayings
1 "Float like a butterfly, sting like a bee. His hands can't hit what his eyes can't see. Now you see me, now you don't. George thinks he will, but I know he won't."
2 "Service to others is the rent you pay for your room here on earth."
3 "I'm young; I'm handsome; I'm fast. I can't possibly be beat."
4 "Don't count the days; make the days count."
5 "If my mind can conceive it, and my heart can believe it - then I can achieve it." Jesse Jackson said this as early as 1983, according to the Associated Press, and Ali used it in his 2004 book.
6 "It's hard to be humble when you're as great as I am."
7 "It isn't the mountains ahead to climb that wear you out; it's the pebble in your shoe."
8 "If you even dream of beating me you'd better wake up and apologise."
9 "Braggin' is when a person says something and can't do it. I do what I say."
10 "I am the greatest, I said that even before I knew I was."
11 "Only a man who knows what it is like to be defeated can reach down to the bottom of his soul and come up with the extra ounce of power it takes to win when the match is even."
12 "I'm so mean, I make medicine sick."
13 "I should be a postage stamp. That's the only way I'll ever get licked."
14 "Impossible is just a big word thrown around by small men who find it easier to live in the world they've been given than to explore the power they have to change it. Impossible is not a fact. It's an opinion. Impossible is not a declaration. It's a dare. Impossible is potential. Impossible is temporary. Impossible is nothing."
15 "He who is not courageous enough to take risks will accomplish nothing in life."
16 "A man who views the world the same at 50 as he did at 20 has wasted 30 years of his life."
17 "If they can make penicillin out of moldy bread, they can sure make something out of you."
18 "I shook up the world. Me! Whee!"
19 "I hated every minute of training, but I said, 'Don't quit. Suffer now and live the rest of your life as a champion'."
20 "At home I am a nice guy: but I don't want the world to know. Humble people, I've found, don't get very far."
21 "A man who has no imagination has no wings."
22 "He's (Sonny Liston) too ugly to be the world champ. The world champ should be pretty like me!"
23 "I am the astronaut of boxing. Joe Louis and Dempsey were just jet pilots. I'm in a world of my own."
24 "I've wrestled with alligators. I've tussled with a whale. I done handcuffed lightning. And throw thunder in jail."
25 "Hating people because of their colour is wrong. And it doesn't matter which colour does the hating. It's just plain wrong."
26 "It's not bragging if you can back it up."
27 "I'm the most recognised and loved man that ever lived cuz there weren't no satellites when Jesus and Moses were around, so people far away in the villages didn't know about them."
28 "It's just a job. Grass grows, birds fly, waves pound the sand. I beat people up."
29 "I'm not the greatest, I'm the double greatest."
30 "Live every day as if it were your last because someday you're going to be right."
Down for the count
Thank you Muhammad Ali for being a huge influence on my life socially, culturally and in sports. Also for all of the memories, historic moments and your courageous fight against Parkinson's Disease.
You truly are and will always be 'The Greatest' to me! RIP 'Champ'.
• Naughty presents 'Mischief and Mayhem in da AM' from 6am to 10am, Monday to Friday and 'The Press Box' sports talk show on Sunday from 10am to 1pm, on KISS FM 96.1. Comments and questions to naughty@tribunemedia.net