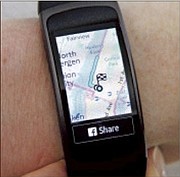 SAMSUNG is unveiling a new fitness tracker that aims to undercut gadgets from market leader Fitbit.
Beyond offering all-day step counting and automatic sleep tracking, the $180 Gear Fit2 comes with GPS sensors for more accurate measuring of distance and pacing for runners and cyclists.
GPS is typically limited to higher-end devices, such as the Fitbit Surge and the Microsoft Band 2, both of which go for $250. The Fit2 is also cheaper than the new $200 Fitbit Blaze, which does not have GPS.
The main drawback: The Fit2 won't sync with iPhones, as Fitbits do. An Android phone - not necessarily Samsung's - is required for syncing music and workout data.
While Samsung is the world's fifth-largest maker of wearable devices, according to technology market research firm IDC, most of those are Gear smartwatches, where fitness is an afterthought.
By contrast, fitness is front and centre with the Fit2. Yet it will also have some smartwatch capabilities, including the ability to reply to messages from the device. Rival trackers at most tend to show you messages; replies are typically limited to smartwatches such as Apple Watch and Samsung's Gear S2.
Advance orders on the Fit2 will begin Friday in the US, with shipments a week later. Later this year, Samsung will release its $200 Gear IconX earbuds that, in addition to playing music, will track exercise and heart rate. They are designed as a standalone tracker, rather than a companion to the Fit2.
Under Armour's upcoming heart-rate-tracking headphones are expected to cost $250. Samsung's IconX goes further with built-in sensors to measure distance and pacing, though with less accuracy than GPS devices. There's no screen, so you get audio readouts every mile or whatever interval you set.
With its announcements, Samsung is trying to tap growing interest in health and fitness as sales of smartphones slow down.
ANICK JESDANUN
Associated Press