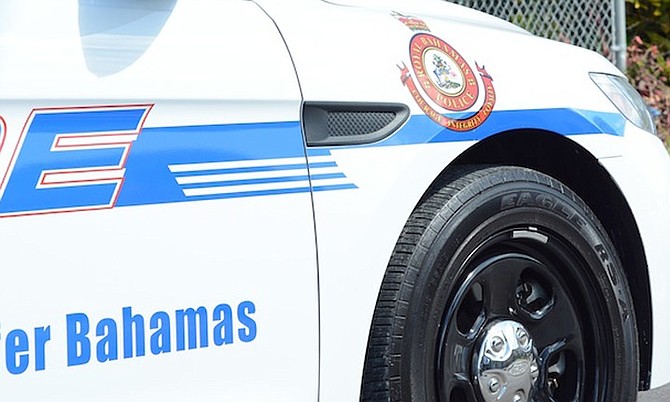 TWO men, including a father, were shot dead in Fox Hill last night about 12 hours after a church minister was killed at an ATM.
The deaths pushed the country's homicide count to 56 for the year, according to The Tribune's records.
Police were called to the scene of the double homicide on Adderley Street shortly after 9pm, where two men were standing outside when they were shot.
One of the victims was identified by a relative as Sammy Rolle, a construction worker in his 30s, who lived in Fox Hill. A relative said Mr Rolle, who had several children, was not known to be a troublemaker. The family member said Mr Rolle may have been "caught in the wrong place at the wrong time" when he was fatally shot.
The other victim, known by his nickname "Smokey", frequently hung out "on the blocks" near Adderley Street, residents told The Tribune.
Scores of onlookers gathered near the crime scene as police processed the area last night. Some residents told The Tribune they believe the shooter was someone known to the area and was reportedly seen riding a bicycle.
Last night, police said they had a person of interest in custody. Assistant Commissioner of Police (ACP) Stephen Dean said police did not have a motive for the shooting.
"Shortly after nine, police was summoned to this area as a result of gunshots being heard," ACP Dean said last night. "Upon arrival, police found the lifeless bodies of two males who were shot. Police do not have a motive for this incident as yet. We are actively investigating this matter.
"Our detectives are on the ground but we put out a public appeal to anyone who might have been canvassing this area, moving through this area, who might have seen or have heard (something), no matter how insignificant it may seem, we're asking you to contact the police. We must be able to bring these persons to justice. We must be able to catch these killers. This is another senseless murder. We believe we have the capability of solving the murders but we cannot do it without the public's help. We do have a person of interest in custody who we are questioning in connection with this matter."
Anyone with information on this incident is asked to contact police at 919, 911, or the Crime Stoppers hotline at 328-TIPS.