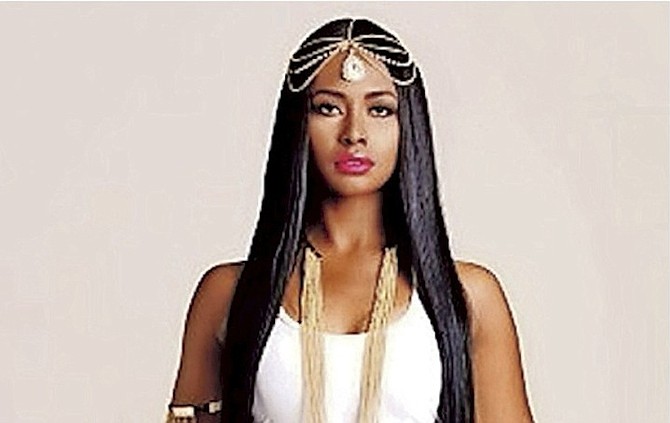 By JEFFARAH GIBSON
Tribune Features Writer

jgibson@tribunemedia.net
Ordain Moss' career has been marked by philanthropy and volunteer work. Now, the Bahamian singer/songwriter has entered a competition for the affluent lifestyle publication Jetset Magazine to prove that there are more ways to give back to your community, while raising the Bahamas' profile at the same time.
Since making her debut on the local music scene several years ago, Ordain has supported a number of causes that impact the lives of many on daily basis, such as the fight against hunger and cancer.
The entertainer is hoping to once again give back in a unique way. If chosen as the winner the "Miss Jetset Magazine 2016" contest, she said a portion of her winnings will be donated to the Cancer Society of the Bahamas.
The artist is competing in the online beauty contest to be the next cover model for Jetset Magazine, a publication which seeks to define affluence with the best in luxury cars, travel, private jets, yachts, fine dining, fashion, and high-end living.
The magazine has partnered with the Be Positive Foundation – an organisation that helps families battling childhood cancer – as they search the globe for their next cover model.
The winner is determined by votes which can be submitted daily for free using a Facebook account.
"After reading about their partnership with the Be Positive Foundation I thought it was an amazing idea and I'd love to be a part in helping such a wonderful effort. Reading their mission also gave me an idea of how I can possible assist a local organisation through competing as well," she told Tribune Woman.
Ordain was made aware of the Miss Jetset Magazine 2016 competition after being sent an invitation to participate. And she gladly accepted. She hopes that the support from her fellow Bahamians will propel her to the number one spot.
"I consider this competition special because it's completely created and launched around social media. From registering, to voting, to campaigning, and even the winner selection; it is all social media driven. I'm using this experience to improve my social media marketing skills; it's really quite interesting. Winning would not only allow me to give back in a way I've always imagined, it will also give me a platform for my music career as well," she said.
Over the past few years, Ordain has released four singles and three music videos, one of which she created specifically for Hands for Hunger. Ordain donated 100 per cent of the sales from the song to the organisation, as well as ran a campaign to raise awareness for Hands for Hunger's mission, which is to eradicate hunger in the Bahamas.
"In everything I do I try to give back and I've always found myself wishing and praying I could do more. If I win, I will give 30 per cent of the cash prize to the Cancer Society of the Bahamas. In a recent visit I've learned just how much they do for our family and friends that are suffering from such a horrible disease. It's amazing how much the organisation takes on, and I know they could always use more help. Winning will also mean a Bahamian girl gracing the cover of a prestigious international magazine; I'd love for that to me," she said.
This year's winner of Miss Jetset Magazine will be flown on a private jet and put up in a luxury hotel for a lavish three-day photo shoot, in addition to over $100,000 in cash and prizes. The winner will be determined through public voting and will be revealed on August 18.
Celebrities including Katy Perry, Halle Berry and Jennifer Lopez have graced the cover of Jetset Magazine.
While Ordain waits for the outcome of the competition, she is working on new music and collaborating with local producers and artists.
"I've also launched my weekly video campaign 'Support An Artist Friday', where every week I shed light on an artist and their most recent projects, as well as encourage viewers to embrace the many methods of showing support to our local artists. Can you imagine the international attention the Bahamas would get if a larger amount of our people purchased our music from iTunes," she said.
To vote for Ordain as "Miss Jetset Magazine 2016", visit www.jetsetmag.com.